Ash will soon be joining the roster of Apex Legends Mobile. Here is how to unlock the offensive legend and all her abilities and legend perks.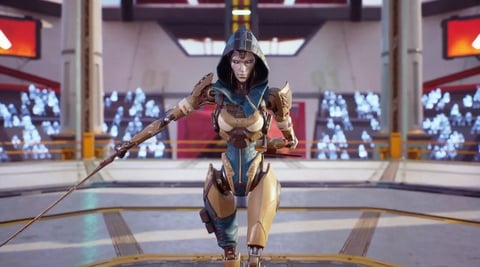 Ash, the simulacrum created from the brain of Dr. Ashleigh Reid, is about to arrive in Apex Legends Mobile with the launch of Season 3: Champions.
An offensive legend with a diverse set of abilities, she is considered one of the strongest legends in the mainline game, and she is sure to be a popular choice in the more limited - at least when it comes to legend choice - Apex Legends Mobile.

Below, you can learn about Ash's abilities and legend perks and how to unlock her in Apex Legends Mobile Season 3: Champions.
How To Unlock Ash In Apex Legends Mobile
The ways to unlock Ash have not yet been revealed. Having said that, every new legend has been released in a similar way since the launch of Apex Legends Mobile, which usually includes two ways to unlock the legend.
The first is by purchasing the legend using Syndicate Gold, the game's premium currency. Legends cost 750 Syndicate Gold (approx. USD 7) to unlock.
The other way is through the battle pass.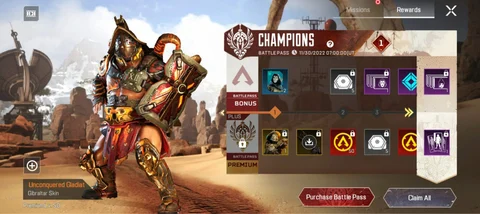 While it is not yet confirmed, it is likely the Champions battle pass will contain Ash Fragments, with players needing to collect ten Ash Fragments to unlock the legend.

For example, the last legend released, Crypto, had fragments that were unlocked at the following tiers:
Tier 1
Tier 9
Tier 13
Tier 17
Tier 25
You will collect two fragments with each unlock, which you can then use to purchase Ash from the in-game store. If you don't collect enough or choose not to purchase Ash, those fragments will become Legend Fragments at the end of the season, which can be used to purchase any other legend.

The fastest way to level up the battle pass tiers is by completing the weekly missions and seasonal challenges.
We will update this page with all the unlock information as it becomes confirmed.

Ash's Abilities And Legend Perks
Ash's abilities are the same as they are in the mainline game, offering up a mixture of recon, damage dealing, and mobility.
Passive:
​​Marked For Death

Ash's map shows the location of recent deathboxes and marks surviving attackers.
Tactical:
Arc Snare

Throw a spinning snare that damages and tethers the first enemy that gets too close.
Ultimate:
Phase Breach

Tear open a one-way portal to a targeted location.
Legend Perks
In Apex Legends Mobile, legends get three perk slots, separated into perks, finishers, and abilities.
You can select one of three legend perks for each of the three slots, which you will need to unlock by playing with Ash and earning legend XP.
This season's legend perks are even more important, as they will be active during ranked play, a change from previous seasons.
Here are Ash's legend perks:
Spoils of War: Death box icons appear on the map and as the color of the highest tier loot inside.
Enhanced Hunting: After three death box extractions, your Data Knife reveals more information. After six, periodically see the killer's team on your map.
Red-Handed Reveal: The first time an enemy uses a scanned death box, their location will be pinged.
Instigator's Precision: You can adjust the throw trajectory of Arc Snare, but the throw speed is reduced.
Enduring Trap: Arc Snare persists after being thrown but can be destroyed.
Shadow Step: Phase Breach can be reactivated within seven seconds of its first use, but the ability's distance is halved.
Battle Adaptation: Using your Finisher adds 100 points to your EVO Shield.
Deadly Momentum: Using your Finisher reduces your Ultimate's cooldown by 30%.
Mag Subscription: Using your Finisher refills the ammo of your active weapon and increases reloading speed for eight seconds.
For more Apex Legends Mobile news and guides, check out: