Want to play Apex Legends Mobile on PC? Learn how you can use an emulator such as Bluestacks to take the mobile title to your desktop.
Apex Legends Mobile has now had its global launch, and mobile gamers around the world can now jump into Respawn Entertainment's colorful battle royale. The game is a beautiful recreation (with a few tweaks) of the mainline game that millions have come to love, but what if you don't want to play on a smartphone or a tablet and, instead, battle it out from the comfort of your PC?
The advantages of such a setup are clear; improved performance and the ability to use a keyboard and mouse are two of the obvious ones, and you can probably guess it can offer you a competitive advantage. But how do you play Apex Legends Mobile on PC? This guide will show you how to do exactly that.

Can You Play Apex Legends Mobile On PC?
Yes, playing Apex Legends Mobile, like so many mobile games, is playing on PC. To do so, you will need to install an emulator such as BlueStacks, which creates a virtual mobile device on your desktop.
This virtual mobile device will run Android, and once you install Apex Legends Mobile on the device, you will be able to get fragging.

Which Android Emulator Should You Use For Apex Legends Mobile?
There are a number of prominent Android emulators for Windows 10/11 and Mac iOS, but to cut through the noise, we suggest the completely free BlueStacks.

Bluestacks is a well-established Android emulator, and it is both stable and customizable, with plenty of optimizations possible to improve keyboard and mouse functionality.
How Do You Play Apex Legends Mobile With BlueStacks?
Playing Apex Legends Mobile on BlueStacks is easy; simply follow these instructions, and you will be dropping into the Apex Games from the comfort of your PC in no time:
Download BlueStacks for Windows 10/11 or Mac iOS (where applicable) from the official BlueStacks website.
Install BlueStacks.
Search for Apex Legends Mobile in the search box found on the top left-hand side of the main menu.
Once the game has launched, sign in to your Google account.
You will be taken to the Google Play store, click 'Install' on Apex Legends Mobile and wait for it to download and install (the download is 2.50GB at the time of writing).
Once complete, hit 'Play'. and you are good to go.
If you haven't played an Android game on an emulator before, you may notice that the screen is covered with keybinds, seemingly at random, don't worry though these simply correspond to the buttons that would be present when playing on mobile. You can customize these and make them hidden by clicking the 'Game Controls' button that sits on the right-hand side of the game window.
Apex Legends Mobile On Emulator - OpenGL ES 3.1 Error
Some players are reporting that when they launch Apex Legends Mobile on BlueStacks, they get an error stating that they are "Unable to run on this device!"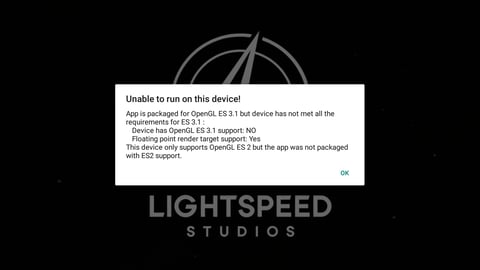 This is a common error and, thankfully, easily fixable. All you need to do is change a few of the graphics settings.
Follow these steps to launch the game successfully:
Launch Apex Legends Mobile from the BlueStacks emulator; once greeted with the error message, click on the 'Settings' icon found on the right corner of the window.
Where it says 'Graphics engine mode' select 'Compatibility', make sure the "Graphics Renderer is set to 'OpenGL' and also the 'Interface Renderer'.
Save the changes.
You will be prompted to restart the application. Do so.
The game will now launch!
That is it for our guide on how to play Apex Legends Mobile on a desktop. For more Apex Legends Mobile news and guides, why not check out the best weapons in the game?