Season 2 of Apex Legends Mobile is gearing up for release and we are starting to learn what might arrive. Here is everything we know about the new Legend, Rhapsody, and more including the release date and battle pass details.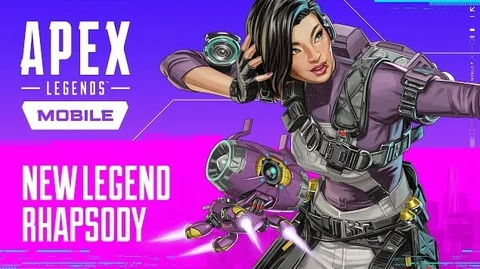 Players of Apex Legends Mobile are currently grinding through Season 1 which introduced Loba and a swath of new events. But, some are already looking past that, and to Season 2 and if you are one of them, you have come to the right place.
Apex Legends Mobile Season 2 will be called Distortion and is set to introduce the second mobile-exclusive Legend with Rhapsody joining the roster. If you want to learn more, including the release date, leaks, and more, check out our primer below.
Apex Legends Mobile Season 2 - Release Date
Season 1's end date has been confirmed by the developers in a recent tweet, stating that Season 1 will end on Tuesday, July 12.
The only thing better than becoming an Apex Champion is doing it in style.

The Cold Snap Battle Pass ends July 12 pic.twitter.com/rxIzWA3fIe

— Apex Legends Mobile (@PlayApexMobile) July 4, 2022
That means Season 2 and its battle pass will be released on Tuesday, July 12.
Apex Legends Mobile Season 2 - Rhapsody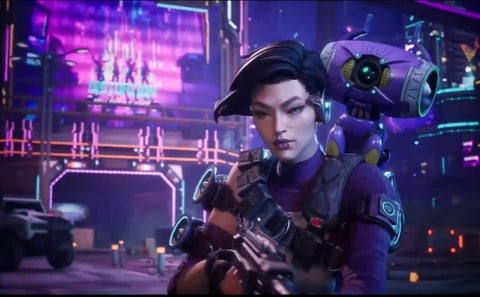 After initial leaks suggested Revenant would be the next Legend to come to the game, it turns out that it's a new mobile-exclusive Legend that will be arriving in Season 2. This new Legend is called Rhapsody and players can get a first look at her in the Season 2 trailer.
Rhapsody will be the game's 12th Legend, following the arrival of Loba in Season 1.
Rhapsody is a DJ and she even has her very own electronic companion which leakers have discovered is called Rowdy. Other files and an event linked to Rowdy have also been leaked which will give players the chance of unlocking a series of Rowdy-inspired cosmetics. The event appears to be called Rowdy's Deep Cut and will see players searching for coded graffiti left by Rowdy, and finding Rowdy himself which will unlock new music clips.
The Event states as follow :
" Collect the Music Clips left by Rowdy to unlock the entire track and get special rewards. "

1. Find Rowdy's graffiti for a decryption code.

2.Find Rowdy in the game to obtain a Music Clip. Only one Clip can be obtained per day.#apexlegendsmobile

— Apex Mobile Leaks (@playapexmleaks) July 1, 2022
Rhapsody's abilities have been released, here they are:
Passive: Gifted Ear

You pick up and visualize sounds from an extended range

Tactical: Hype Anthem

Play a powerful track that speeds up nearby squadmates and recharges shields. Taking damage will end the effect.

Ultimate Ability: Rowdy's Rave

Rowdy projects a wall of flashing lights that block incoming sight and scans.
It appears Rhapsody is a defensive support with the ability to track enemies as well as heal teammates. It will be interesting to see how her abilities translate to the real world.
Apex legends Mobile Season 2 - New Maps
Two previously unavailable maps are heading to Apex Legends Mobile Season 2. One entirely new team deathmatch map and one altogether more familiar battle royale map.
Because it turns out the leaks were true and Kings Canyon is making its way to Apex Legends Mobile. This map was the very first map in the mainline game and it has remained popular throughout the life of the game. The map is available to play now before the start of Season 2 proper.
The other map is Pythas Block 0 which is directly connected to Rhapsody. As the developers explained:
When [Rhapsody's] mother was fired from Pythas Inc. for discovering company secrets, her family was buried in false debt and forced into the dangerous nightlife district: Neon Dunes. There, Rhapsody honed her art. The unrest around her inspired groundbreaking music with a rebellious heart, capturing the passion of its people.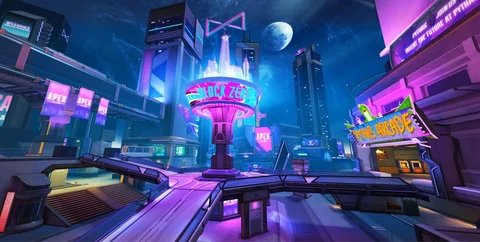 Set on a corporate campus owned by Pythas Inc, the map is a neon-lit urban city with an arcade, offices, and a lot of color.
Apex Legends Mobile Season 2 - Battle Pass
The Season 2 Battle Pass will be called "Distortion," though there is little other information about what it contains.

However, like previous battle passes, Season 2 will have a free and premium track, with those that purchase the battle pass getting 50 tiers of rewards to unlock.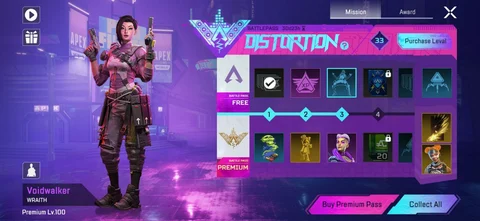 The Premium Battle Pass will cost 799 Syndicate Gold, while there is also the option of purchasing the Premium Battle Pass Plus which costs 1599 Syndicate Gold and will give you a Season-exclusive Avatar Frame and will unlock the rewards for the first ten levels instantly.
Apex Legends Mobile Season 2 - New Game Modes
Two new game modes are coming in Season 2, Gun Game and Hack.
Gun Game will be familiar to many FPS players, as players rack up kills they get better and better weaponry. To win you must get the most points or three melee kills.

Hack has a touch of search and destroy about it. The team of hackers must hack into one of two satellite terminals and, once they do so, the Satellite will begin frying the defenders. As the defenders, you must stop the hackers from getting access to the satellite. The first to four round wins takes the match.

Apex Legends Mobile Season 2 - Patch Notes
Legend Adjustments
Added the ability for Pathfinder's hook to pull enemies without Pathfinder being pulled towards the enemy.
Disabled the ability to use the second jump from Octane's jump pad while using healing items.
Removed collision for teammates.
Weapon Adjustments
Fully kitted weapons changed to: Havok, Prowler, Spitfire, Charge Rifle & Mastiff.
EVA-8 & Devotion moved to Care Package, Spitfire and Volt removed from Care Package.
EVA-8 base pellet damage increased from 6 to 7, spare ammo stack adjusted to 60.
Devotion base damage increased from 16 to 17, spare ammo stack adjusted to 270.
Removed Spitfire barrel attachment slot. Increased tactical reload speed from 2.37s to 2.57s.
Regular Spitfire reload speed increased from 3.06s to 3.26s. Magazine capacity adjusted to 40/45/50/55.
Volt base damage reduced from 17 to 15.
Volt magazine capacity adjusted to 21/24/27/32.
Peacekeeper lower limb damage ratio adjusted from 0.8 to 1
Mozambique lower limb damage ratio adjusted from 0.93 to 1
New Weapon Attachments & Customization
Added unique tracer VFX for the Turbocharger and Selectfire Receiver hop-ups.
Seasonal-themed tracer ammo will have trajectory VFX and hit effects.
Added new customization features for crosshairs. Adjust color, width, length, and transparency.
Game Mode Adjustments
Team Deathmatch
EVA-8 and Devotion moved from the base weapon pool to the care package.
Spitfire and Volt added to the base weapon pool.
Spitfire and Volt changed from red to gold tier weapons
Misc

Kill Achievements system for BR and MP modes now available. Can be turned off in the settings menu.
Bug Fixes, Adjustments & QOL Improvements:
Added distance acceleration mode in sensitivity settings.
Added vertical sync toggle in the video options menu.
Picking up a squadmates banner has been adjusted to a one-handed action. You can now loot a squadmates banner while shooting or using a healing item.
Optimized climbing speed and animation.
Added a third person in air crouching animation.
Added a toggle to turn team mate item callouts on or off in the settings menu.
Added pinging while knocked and a help callout button.
Added an in-game squadmate item request display.
Fixed the unintended momentum conservation occurring from bunny hopping tech.
Fixed an issue where the red notification dot would not resolve naturally in the store.
Fixed an issue where Pathfinder would cause themselves and an enemy to spin in circles while grappled.
Fixed an issue where players could hear enemy footsteps while in the void.
Fixed an issue where Octane's jump pad would sometimes not trigger when stepping on it.
Fixed an issue where Octane could not use weapons after taking a zipline.
Fixed an issue where using a finisher would cause players to get stuck.
Fixed an issue where the range of Caustic's ultimate would not match its visual animation.
Fixed an issue where Caustic's traps would not deploy properly due to Gibraltar's Dome of Protection.
Fixed an issue where Caustic's gas animation would remain visible after the effect has ended.
Fixed an issue where map beacons would not show animation when scout legends would interact with them.
Fixed an issue where gunshot SFX would trigger randomly.
Fixed a visual issue where crosshairs would not disappear.
Fixed an issue where some buttons would not disappear when hidden and sometimes display abnormal transparency.
Fixes and optimizations to controller support.
Fixed various geo and mesh issues that caused players to get stuck or move irregularly.
Fixed an issue where mobile respawn beacons and heat shields were not auto looted.
HUD customization now supports 0 Transparency.
Various Fixes and optimizations to the Legend select screen.
Added various performance optimizations to the World's Edge map.
Optimized screen transition performance.
Optimized the skydive experience.
Added the ability to block nonfriend team invites.
Optimized various aspects of the shops' menus.
Many other fixes and improvements.
Optimized the ability display performance in low graphic settings, to ensure smooth ability usage.
Optimized accuracy of melee attacks.
Optimized the mechanics of Wraiths Ultimate and Tactical abilities. Tactical can only be released after the ultimate initial action is finished.
Optimized the visual effects in the void.
Optimized Bangalore's smoke effect, and increased the visibility in the smoke.
Optimized most legends' perk icon display.
Caustic's "Healing Catalyst" perk now has its own reviving animation.
Fixed visual issue that caused Mirage's decoys to occasionally have their weapon attachments displayed incorrectly.
We will continue to update this page with more information as it becomes available.
Until then, check out: