Each legend in Apex Mobile is set to get an upgradeable Signature Weapon, with Fade seemingly first in line.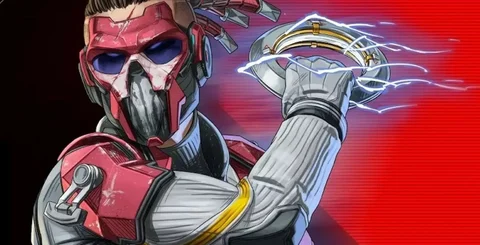 If you like surprises, then you will hate Apex Legends Mobile, which is leaking more than your student accommodation's kitchen sink at the moment.

We've learned that the Olympus battle royale map is likely coming in Season 3, alongside legends Ash, and later in Season 3.5, Revenant.

While the exact release dates of this content are the subject of conjecture, that it is being worked on and playable within the game is not, thanks to a test build that appears to have come out of China, revealing the previously mentioned additions along with a swath of new cosmetics.

Olympus : Phase Tunnel | Apex Mobile Season 3
Full Video : https://t.co/D6v0JC4aXB#apexlegendsmobile #APEXmobile #playapexmleaks #apexmleaks
[ Deleting soon....] pic.twitter.com/GPTcNIrslQ

— Apex Mobile Leaks (@playapexmleaks) August 29, 2022
Now, evidence has emerged of a brand new upgradable weapon type. Dubbed 'signature weapons', these will be tied to specific legends, and leaks have revealed the first of these for the mobile-exclusive legend Fade.

Apex Legends Mobile To Get Signatur" Weapons
This leak comes courtesy of Apex Mobile Leaks (handy name that) and gives us a look at Fade's signature weapon. The weapon looks like a set of knuckle dusters, which can be upgraded to level 6, with each level adding yet another cosmetic attachment.

Fade's Signature Weapon : CONSTELLATIONS
-> Signature Weapon is a new Concept.
-> Fade got new lobby animation with its signature weapon
-> It has 6 different Upgradable Levels [ from Lvl 1 - Lvl 6 ]
-> It also got Some stickers & special effects.#APEXmobile pic.twitter.com/V6LjRszlW7

— Apex Mobile Leaks (@playapexmleaks) August 29, 2022
Fade's signature weapon is also reportedly called 'Constellations'.

These signature weapons appear to be Apex Legends Mobile versions of Heirlooms seen in the mainline game, legend-exclusive melee weapons that you must unlock.

In fact, a leak back in July inaccurately described Fade's signature weapon as his Heirloom.
In the mainline game, Heirlooms can be unlocked in one of two ways: through the most recent Collection Event, with one released each season, or by trading in the exceedingly rare Heirloom Shards, an item found in Apex Packs.

A similar system will likely be in place for Apex Legends Mobile and its signature weapons, which is good news for fans of the game, as that means more event content.
Whether these signature weapons will make it into November's Season 3 release is not yet known, but check back in with us closer to the time for the latest.

Until then, why not check out our other Apex Legends news and guides: