An untextured version of Wattson has appeared in the Apex Legends Mobile files suggesting she may well be the next legend to be added to the game.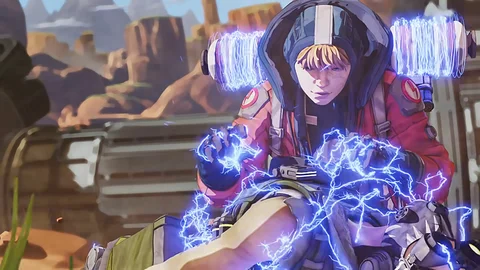 Fans of Apex Legends Mobile are gearing up for the release of Hyperbeat, the newest season of the game.
The seasons for mobile have followed a similar to that seen in the mainline title, with these major updates being used to introduce new legends to the game—this time around, it is recon legend Crypto who's joining the roster.
Hyperbeat drops tomorrow (August 23), but already inquisitive glances are being cast past this update and to what may arrive next, and, thanks to the game's army of leakers, we have an idea who may well be the game's fourteenth legend.
Leaks Reveal Wattson Is Being Ported To Apex Legends Mobile
These latest Apex Legends Mobile leaks come courtesy of Indian YouTuber Ritzking, with the files discovered a day before the release of Hyperbeat.
Ritzking has previous for uncovering the next moves of the Apex Legends Mobile developers, having previously released footage of Crypto back in early July—well over a month before he was officially unveiled.
Upcoming Legend "Crypto" Abilities in Action pic.twitter.com/jGXFZSrTvp

— RITZKING (@RitzKing_) July 10, 2022
That leak also showcased all of Crypto's abilities working within Apex Legends Mobile, and while this leak, showing an untextured player model of Natalie "Wattson" Paquette, isn't as extensive, it is the biggest clue we have yet as to who will be the next recycled legend added to Apex Legends Mobile.
Untextured Wattson model added to apex mobile files pic.twitter.com/L3igmEtfFh

— RITZKING (@RitzKing_) August 22, 2022
We say recycled because it appears that the developers are following a release schedule that goes: mobile exclusive legend, a legend from the mainline game, mobile exclusive legend, a legend from the mainline game, and so on. That means the season after Hyperbeat will likely have a brand new legend, with Wattson arriving in the season following that.
Wattson, despite a bit of a rework with the release of Season 11, has never been deemed a particularly powerful legend in the mainline, with a common criticism being that her defensive abilities need to be set up ahead of any engagement, not particularly useful in the fast-paced nature of Apex Legends.
Whether that is how she will arrive when she makes her debut on the small screen is not yet known. With Crypto receiving some mobile-friendly changes ahead of his release, there is a chance Wattson will be tweaked before her arrival.
For more Apex Legends Mobile news and guides, check out: