Apex Legends Mobile launched with a ranked mode here is everything you need to dominate the Apex Games.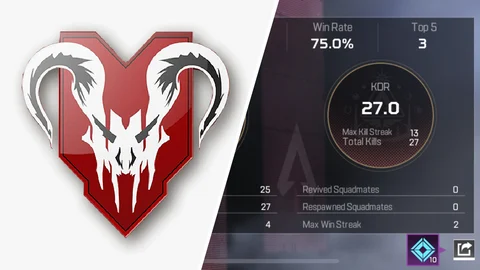 Apex Legends Mobile, like the mainline game, has a ranked mode that allows you to test your mettle against the best. But how does the ranked mode work? This guide will break down everything about the ranked mode including when you can start playing, how you can rank up quickly, and all the different ranks and rewards.
How Does Ranked Mode Work In Apex Legends Mobile?
The Ranked mode in Apex Legends Mobile works similarly to how it appeared before Season 13 in the mainline game. Starting at Iron, you "pay" with Ranked Points (RP) to enter a game, then if you do well, you earn back more RP, but if you perform badly you may lose what you spend and go down.
As you climb the ranks, the entry cost gets higher, so by Diamond rank, you need to spend a huge amount for RP to enter a game, and therefore need to perform well to leave the game with a net positive RP.
Unlike traditional Ranked modes, you don't play a series of placement matches, everyone simply starts in Bronze and works their way up. It is also worth noting you can't rank down, with each rank you obtain creating a new floor for your progress.
At the moment, Ranked mode is only available in the battle royale game mode.
When Can You Start Playing Apex Legends Mobile's Ranked Mode?
Before you can play Ranked mode you will need to level up your account to level 8. This will take between 10 to 15 games depending on how well you do. After that, Ranked mode is all yours with no further restrictions.

What Are The Ranks In Apex Legends Mobile?
In Apex Legend Mobile, there are seven ranks: Silver, Gold, Platinum, Diamond, Master, and Apex Predator. Ranks can have an unlimited amount of players, except Apex Predator, which acts as a leaderboard of the top 750 players in your region. As you play and earn RP, you will advance in the ranks.
| | |
| --- | --- |
| Rank | RP Required |
| Bronze | N/A |
| Silver | 1,200 RP |
| Gold | 2,800 RP |
| Platinum | 4,800 RP |
| Diamond | 7,200 RP |
| Master | 10,000 RP |
| Apex Predator | Top 750 players |
What Rewards Do You Get For Playing Ranked In Apex Mobile?
When you reach a new rank in Apex Legends Mobile, you get a reward that include Sprays, Trails, and Avatar Frames.
| | |
| --- | --- |
| Rank | Reward |
| Bronze | Holo Spray |
| Silver | Holo Spray |
| Gold | Holo Spray |
| Platinum | Holo Spray |
| Diamond | Holo Spray / Trail / Avatar Frame |
| Master | Holo Spray / Trail / Avatar Frame |
| Apex Predator | Holo Spray / Trail / Avatar Frame |
As Ranked mode changes throughout Apex Legends Mobile, we will continue to update this page. So, if you are on that Ranked grind, give this page a bookmark and check back to see all the changes.
For more Apex Legends Mobile news and guides, check out: