Here's a look at all the Magic items currently available in Clash Royale and what their abilities are.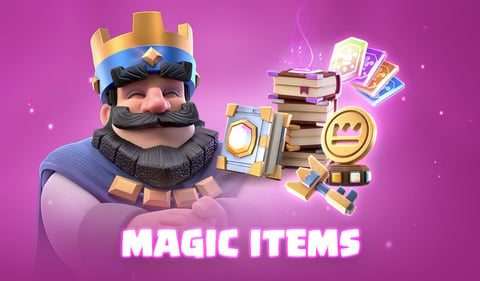 Magic Items are useful in-game items that allow you to gain advantages that range from boosting your card levels, upgrading your troops, to opening Chests, and more. They're powerful resources that, if used wisely, can significantly improve how well you perform in Clash Royale.
This is a complete guide to all the Magic Items available in Clash Royale
All Magic Items In Clash Royale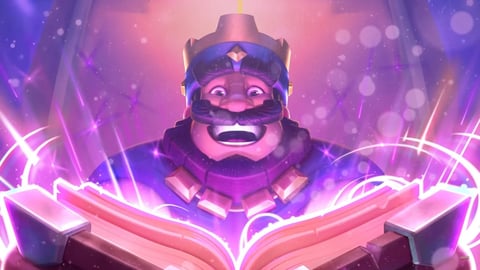 Magic Items exist in different shapes and sizes in Clash Royale. You can divide them into five types: Wild Cards, Book of Cards, Card Boost Potion, Chest Keys, and Magic Coins. They offer different abilities when used so make sure you know what you're dealing with before activating them.
Here's a rundown of each of the Magic Item's abilities:
| | |
| --- | --- |
| Magic Item | Ability |
| Common Wild Card | Adds to the level upgrade progress of any Common card |
| Rare Wild Card | Adds to the level upgrade progress of any Rare card |
| Epic Wild Card | Adds to the level upgrade progress of any Epic card |
| Legendary Wild Card | Adds to the level upgrade progress of any Legendary card |
| Champion Wild Card | Adds to the level upgrade progress of any Champion card |
| Common Book of Cards | Gives you the remaining Common Wild Cards required for you to upgrade a card to the next level |
| Rare Book of Cards | Gives you the remaining Rare Wild Cards required for you to upgrade a card to the next level |
| Epic Book of Cards | Gives you the remaining Epic Wild Cards required for you to upgrade a card to the next level |
| Legendary Book of Cards | Gives you the remaining Legendary Wild Cards required for you to upgrade a card to the next level |
| Book of Books | Gives you the remaining Wild Cards for any rarity that is required for you to upgrade a card to the next level |
| Card Boost Potion | Temporarily boosts one of your cards to your Tower Power for one hour |
| Chest Key | Instantly opens any Chest in your Chest slots |
| Magic Coin | Allows you to skip the Gold cost when upgrading a Card |
Stay up to date with the latest Clash Royale news and guides: