Here's a look at all the items currently available in the Season Shop for Season 46 (April 2023) of Clash Royale.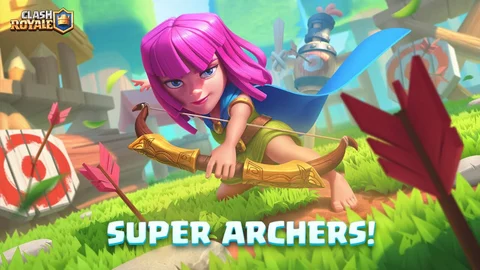 The Season Shop is a newly introduced feature that arrived in the March update of Clash Royale. The devs wanted to provide more flexibility to players when deciding what rewards they want to get.
If you're completely new to the idea, it's simple. You can earn Season Tokens from participating in events, the reward tiers in the Pass Royale, and the in-game shop. These Tokens can then be spent at the Season Shop to purchase whichever reward is available for the time being.
The Season Shop refreshes with a new batch of items every season. That being said, the current item rotation in Season 46 will be available in Clash Royale between April 1 and May 1.
Clash Royale Season 46 (April 2023) Season Shop Items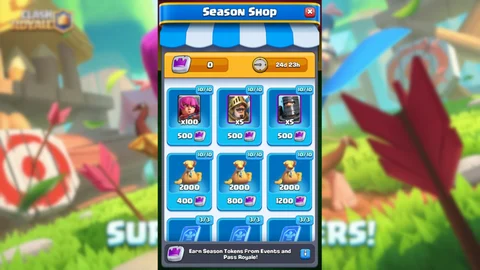 The Shop for Season 46 is full of Cards, Magic Items, Batte Banners, and Emotes. As you might have expected, there is only a limited amount of these rewards available in the Shop. You'll need to spend Season Tokens to get them.
So without further ado, here's a look at all the rewards available in this Season's Shop, the amount available, and their costs.
| | | |
| --- | --- | --- |
| Item | Amount Available | Cost |
| 100 Archers Cards | 10 | 500 Season Tokens |
| 5 Prince Cards | 10 | 500 Season Tokens |
| 5 Dark Prince Cards | 10 | 500 Season Tokens |
| 2,000 Gold | 10 | 400 Season Tokens |
| 2,000 Gold (second level) | 10 | 800 Season Tokens |
| 2,000 Gold (third level) | 10 | 1,200 Season Tokens |
| 100 Common Wild Cards | 3 | 600 Season Tokens |
| 100 Common Wild Cards (second level) | 3 | 1,000 Season Tokens |
| 100 Common Wild Cards (third level) | 3 | 1,400 Season Tokens |
| 25 Rare Wild Cards | 3 | 600 Season Tokens |
| 25 Rare Wild Cards (second level) | 3 | 1,000 Season Tokens |
| 25 Rare Wild Cards (third level) | 3 | 1,400 Season Tokens |
| 5 Epic Wild Cards | 3 | 600 Season Tokens |
| 5 Epic Wild Cards | 3 | 1,000 Season Tokens |
| 5 Epic Wild Cards | 3 | 1,400 Season Tokens |
| 1 Legendary Wild Card | 3 | 1,500 Season Tokens |
| 1 Epic Book Of Cards | 1 | 15,000 Season Tokens |
| 1 Archer Queen Card | 1 | 35,000 Season Tokens |
| 50 Banner Tokens | 5 | 500 Season Tokens |
| 50 Banner Tokens (second level) | 5 | 1,000 Season Tokens |
| 50 Banner Tokens (third level) | 5 | 1,500 Season Tokens |
| Dark Prince: Sleepy Emote | 1 | 8,000 Season Tokens |
| Prince: Epic Silly | 1 | 10,000 Season Tokens |
| Prince: Lance Clean | 1 | 12,000 Season Tokens |
| Arrow Petals Battle Banner | 1 | 4,000 Season Tokens |
| Bullseye Battle Banner | 1 | 4,000 Season Tokens |
For more Clash Royale news and guides, check out: