Here are the best loadout/attachments for the HDR sniper rifle in COD: Mobile.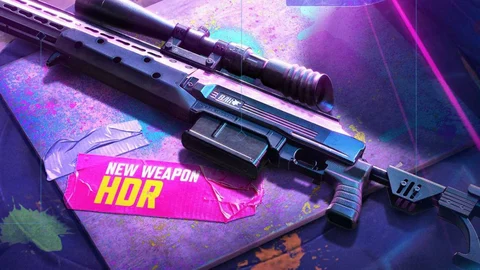 The HDR is a high-damage dealing bolt action sniper rifle in COD: Mobile that got introduced with the Season 3 'Rush' update. It is a great weapon that players can use to take out other players from a distance with a single hit, hold a position, and a myriad of different ways depending on the map and the opportunity.
While the HDR is a great sniper rifle, you can make it even better by using the best attachments that counter some of the weapon's shortcomings in COD: Mobile. On top of that, using different attachments, you even become a ghost, hiding in a corner, taking down enemies without them knowing where the shot came from.
With that said, let us check out the best loadout for HDR sniper rifle in COD: Mobile Season 3.

Best Loadout For HDR Sniper Rifle In COD Mobile Season 3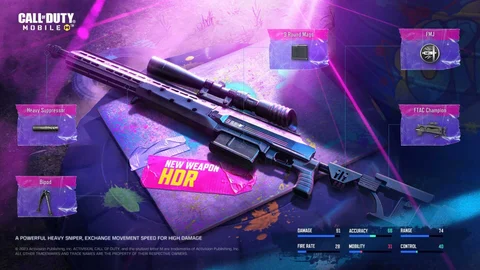 The bring the most out of the HDR sniper rifle in COD: Mobile, we have focused on making the weapon silenced, decreasing its recoil, and increasing stability while improving the bullet penetration and magazine size.
Muzzle - Heavy Suppressor
Underbarrel - Bipod
Stock - FTAC Champion
Perk - FMJ
Ammo type - 9 Round Mags
The Heavy Suppressor attachment helps suppress the sound of firing a bullet which enables you to stay hidden and makes it difficult for enemies to learn where the shot came from.
Whereas the stable Bipod underbarrel attachment makes the weapon more stable by improving ADS Bullet Spread Accuracy and Lateral Recoil Stability whenever you are crouched or prone.
FTAC Champion is a stock attachment built for the HDR sniper rifle, as it dramatically helps the weapon by improving its aim stability and steadiness while moving.
FMJ, aka Full Metal Jacket, helps increase the bullet penetration power for the HDR, which is much needed considering that it is a sniper rifle.
At last, the 9 Rounds Mags lets you carry more bullets in a magazine to make sure you don't have to reload all the time and miss out on opportunities to take out your opponent.
That concludes our guide on the best loadout for the HDR sniper rifle in COD: Mobile.
For more on COD: Mobile, check out: