Get free weapon blueprints, operators, and camos with our COD Mobile redeem codes. (Updated: June 2023).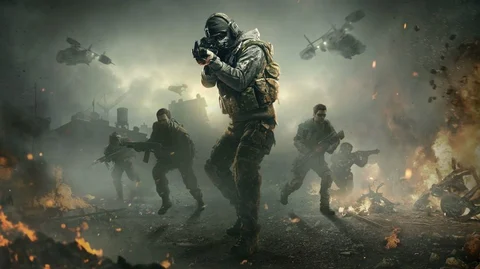 Using Call of Duty: Mobile redeem codes are a great way to get free rewards for the game without spending a penny of real-world money or COD Points.
COD Mobile redeem codes have previously offered free operators, weapon blueprints and camos, and much more. These codes are usually available for a limited time and released alongside events, holidays, and as part of promotions. If you want to learn all the active codes, as well as how to use them, this redeem code guide will set you right.
How To Use Redeem Codes In COD Mobile
Before we get into the currently active COD Mobile redeem codes, we will show you how to activate them.
Before you start, you will need to know your UID number; you can find this by heading to the in-game home screen and clicking on the player icon at the top-left-hand corner of the home screen. Tap 'BASIC', and here you will find your UID number.
Now, with your UID number in hand, follow these instructions:
Head to the Call of Duty: Mobile redemption center.
Enter your UID number.
Type in the redeem code.
Fill in the verification code.
Press 'submit'.
You will now find your reward in your in-game inbox.
COD Mobile Redeem Codes - Active Codes (June 2023)
Here are all working redeem codes for COD Mobile as of May 31, 2023.
CICPZBZT47
CHNGZBZNNV
CHV0ZBZ86T
CHVNZBZHCT
CHVMZBZHQB
CHNEZBZFTR
CHNDZBZDG8
CHNBZBZSS5
CHNCZBZHUS
CJLKZBZ6UF
CGFJZBZ3QT
CGFKZBZ5GK
CGFLZBZDG7
CGCDZBZCDM
CGPGZBZJAC
CDNKZBZJBC
CIVQZBZMD8
CIVRZBZKD7
CIVOZBZX96
CIVPZBZHBV
CIRCZBZQ68
CINUZBZNE6
CIKQZBZJJV
CIKPZBZ3VG
CIQUZBZQJH
ARPM3LUJ0JF97
170TSIINDQ9UZ
FFPLOJEUFHSI
CIDHZBZAUE
CIDGZBZWHP
CIDFZBZHMB
CIDEZBZP7R
CIDFZBZHMB
CIDEZBZP7R
CIDJZBZ39X
CIDIZBZ6VS
CHUIZBZGR6
CHUHZBZUWR
CHUJZBZPG5
CHUGZBZDEG
CHUFZBZW5J
CHUEZBZKHR
CIDDZBZA9A
CHUDZBZ6UF
CHUCZBZATR
CHUBZBZA6N
CDNIZBZXSD
Expired COD Mobile Redeem Codes
BTBUZC4VR
BLMLZCZH88
BJRLZBZDV8
JNQ34TEANEG9R
BVRPZITKAZADS9
BFQGZEBKCAZ97FP
BEI25I3Y2BDI7829
BFOBZDUCLOZ6DBT
EHEUUE73I63UT6
RIEJ1572HE51GE
BFOBZDUCLOZ6DBT
NSHIW629RU2N85
QVABZA5RI7ZHQ
67VHL8XS2SZ1
STPW4PR86ZRF
USU261863H287E8
BJMMZCZAQS
BQIHZBZC4Q
SSUXH8S0ELKU
BQIBZBZJSU
67VHL8XS2SZ1
STPW4PR86ZRF
BJMMZCZAQS
BQIHZBZC4Q
SSUXH8S0ELKU
BQIBZBZJSU
BPIBZBZ4QX
BQIDZBZWCT

BQICZBZ7BM
SX4G-73D55-RNJ7
3EREQN8HR4KXN
BJMMZCZAQS
BQIHZBZC4Q
BQIBZBZJSU
BPIBZBZ4QX
BQIDZBZWCT
BQICZBZ7BM
BFNUZILDFZ4JU43
CODMA473366440
BJMMZCZAQS
CODMB846206751
BJMIZCZ9QD
CODMC753629219
BNDGZBZFF7
BMRNZBZNKC
BMTUZBZXUD
BNGHZBZBTN
BMTPZBZAAN
BMRMZBZESA
BGRBZBZG3K
BJUCZBZ448
BFOBZBAVHJGZCSK
3EREQN8HR4KXN
BFNUZILDFZ4JU43
170TSIINDQ9UZ
BLIKZCZNCM
BLMLZCZH66
BJUOZBZCCP
BKGUZCZ7G8
BKGUZCZ8G8
BKHDZBZ7U5

BMRCZCZ8CS
BGMTZBZ4BV
BGMVZBZCU8
BGMRZBZ6SH
BGONZBZQPB
BGRCZBZBNE
BJUMZBZEWE
BJMJZCZ98H
BJRLZBZDV8
BJUNZBZBUA
BJMGZCZRGT
BIVJZBZSUQ
BIFBZBZSC9
BLMLZCZH88
BLFUZBZTXS
BLILZCZ5UE
For more mobile redeem codes, check out: