This guide shares the BP Vault for COD Mobile Season 5 while talking about a few related things.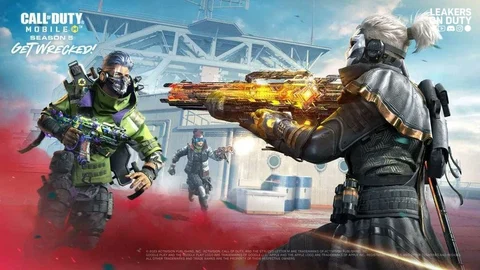 COD: Mobile Season 5 (2023) 'Get Wrecked' official trailer and other details are finally out, and with that, we also have new details on the BP Vault, which this new season will feature.
For players who don't know, BP Vaults is a feature that allows players to access past seasons' battle pass contents so that players who missed it can claim it using Vault Coins that they can acquire by leveling up the new battle pass.
To make sure you don't miss out on COD: Mobile Season 5 BP Vault and to share details on what this new BP Vault will feature, we have prepared this handy guide.
What Is COD Mobile Season 5 (2023) Battle Pass Vault?
In COD Mobile Season 5, the BP Vault is 2021's Season 5, Deep Water battle pass.
S05 2023 BP Vault will be "S05 2021 In Deep Water"#callofdutymobile #codm #codmobile pic.twitter.com/AMcsNge723

— Leakers On Duty (@LeakersOnDuty) May 23, 2023
For players who have forgotten about it, below are the different epic characters, weapons, emotes, and other similar things it featured.
Epic Characters
Roze - Foreshadow
Rorke - Man Hunter
Otter - Backstroke
Merrick
Epic Weapons
BK57 - Counter Stealth Unit
QXR - Close Catch
DR-H - Rebreather
PP19 Bizon - Devilfish
CR-56 AMAX - Torpedo
Others
Charm - Killer Whale
Backpack - Stock Up
Emote - Swim Up
Calling Card - Eye of the Storm
Avatar - Man Hunter
Frame - Sub Aquatic
Calling Card - Wetworks
Karambit - Black Ice
Frame - Dark Freeze
Avatar - Ghosts
So if you missed any of the above items, you can level up the COD: Mobile Season 5 (2023) battle pass and obtain Vault Coins.
After that, you can use those Vault Coins to unlock the above things from the BP Vault section once COD: Mobile Season 5 goes live.
For more on COD: Mobile, check out: