Returning for 2022, the COD: Mobile World Championship has over $2m in prizes and plenty of in-game rewards on offer. Here is how you can get involved and how you can follow all the action.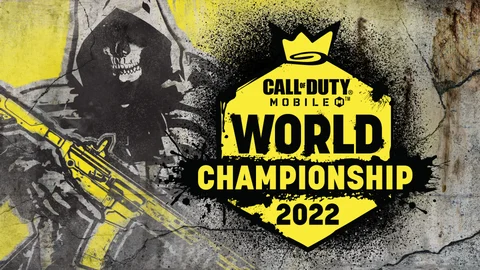 The Call of Duty: Mobile World Championship has returned for 2022, currently in Stage 3 - Regional Qualifiers, things are hotting up for the biggest tournament in the COD: Mobile esport calendar.
Once the qualifiers are settled, it is on to the Regional Playoffs and then the World Championship Finals LAN set to be held in December - where $1.7 million will be dished out.
The event is all about the classic Call of Duty competitive experience with teams of five competing in game modes such as Hardpoint, Control, and Search & Destroy.
If you want to learn more, including the schedule, in-game rewards, and more, check out our primer below.
COD: Mobile Mobile World Championship 2022 - Schedule
The COD: Mobile World Championship is a multi-regional event that starts online with Stage 1 and ends with the offline World Championship Finals. There are six regions; Latin America, India, Europe, Japan, and North America.
The COD: Mobile World Championship kicked off on March 31 with Stage 1; this was a solo event played over four weekends within which those competing attempted to qualify for May's Stage 2 which had players qualifying as a 5-person team.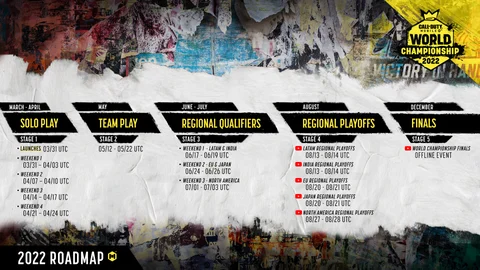 Stage 1 and 2 were entirely online and all who took part were awarded an exclusive Frame and Calling Card with more in-game rewards on offer depending on competitors' performances.
Stage 3 is where the real competition begins, with performances here determining what teams will earn a place at the Stage 4 Regional Playoffs. Taking place in August, these are the first events of the year that will have an official broadcast allowing you to follow all the action live.
In December, Stage 5, the World Championship Finals, will crown the best team in COD: Mobile.
These are the dates for the remaining weeks of the competition.
Stage 3 - Regional Qualifiers
Weekend 1 - LATAM and India
Weekend 2 - Europe and Japan
Weekend 3 - North America
Stage 4 - Regional Playoffs
LATAM Regional Playoffs
India Regional Playoffs
Europe Regional Playoffs
Japan Regional Playoffs
North American Regional Playoffs
Stage 5 - World Championship Finals
Check out the official COD: Mobile World Championship 2022 rulebook for all the information on the format, map pool, and more.
COD: Mobile World Championship 2022 - Rewards
Alongside the Frame and Calling Card, there was a number of rewards that could be earned in Stage 1 and 2.
They included Operator and Epic weapon skins, as well as COD Points and Epic XP cards.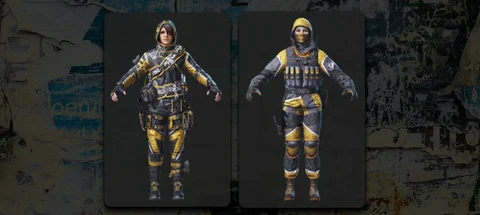 Here are all the available rewards:
Stage 1 Rewards
Zero - Main Event
Epic QXR - Street Cred LATAM
Epic Type 25 - Street Cred India
Epic HBRa3 - Street Cred EU
Epic MSMC - Street Cred JP
Epic Locus - Street Cred NA
2 Epic Crates
500 Credits
10 Epic XP Cards

Calling Card
Frame
Stage 2 Rewards
Epic Holger 26 - Street Cred

Epic Type 25 - Street Cred
Spray
COD Points
Charly - Local Legend
COD: Mobile World Championship 2022 - How To Watch
Starting with Stage 4, COD: Mobile esports fans around the world will be able to follow the competition via the official broadcast. Each Regional Playoff will be streamed live followed by the World Championship Finals in December.
All the action can be followed on the official COD: Mobile Esports YouTube channel which we have embedded for you below.
For more COD: Mobile news and guides, check out: