Ahead of Call of Duty: Warzone Mobiles reveal tomorrow at COD: Next, the developers have took a swipe at rival battle royale titles.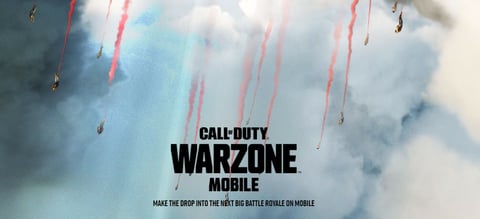 Mobile gamers have plenty of options when picking a game that features a battle royale mode.
The game mode can feel ubiquitous at times, which on mobile is dominated by the likes of Free Fire and Fortnite, and the mobile versions of Player Unknown's Battleground (PUBG), Apex Legends, and Call of Duty. But there are countless others, of varying quality, and with huge playerbases in their own right.
And that market is set to get even more crowded, as Call of Duty: Warzone Mobile is on the way.
Call of Duty: Warzone is on the Mt. Rushmore of battle royale games; a cash machine for Activision Blizzard, it has managed to crossover into the public consciousness in a way only Fortnite can truly rival.
The series is set to make a big splash when it lands on mobile, and we got a taste of that today (September 14th), when the Warzone Mobile developers took a not-too-subtle dig at its mobile rivals.
Warzone Mobile Devs Take "Bot" Swipe At Rival Battle Royales
That dig came in what is some of the first official communications from the Warzone developers.
Ahead of the game's unveiling at the Call of Duty: Next franchise showcase tomorrow, the game's Google Play Store page has been made public.
It's here that shows that Warzone Mobile isn't just here to make up the numbers.
In the product description, under the subtitle "MORE COMPETITORS, MORE COMPETITION", the developers call on gamers to "skip the bots".
"Call of Duty: Warzone Mobile matches feature some of the highest real player-counts for mobile battle royale," reads the description. "Skip the bots and put your skills to the test where it counts!"

This is a clear dig at rival battle royale titles such as the recently released Apex Legends Mobile, which often fill out lobbies with bots in low MMRs or when server population is low.
This boastful stance from the Warzone Mobile developers is a brave one, as the game has been confirmed to have 120-player lobbies, double that of Apex Legends Mobile and twenty more than seen in the largest PUBG: Mobile matches.
Whether Warzone Mobile will be able to make good on its promises is another thing, though the omens are good as those that have been able to take part in the closed alpha tests have been purring about its performance on Android devices - something that can't always be said about Apex Legends Mobile which has struggled with performances issues since its release.
For more Warzone Mobile news and guides, check out: