Verdansk will be the map featured in Call of Duty: Warzone Mobile, but it won't be quite the same map that we previously said goodbye to.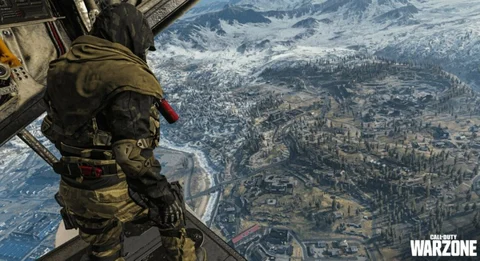 We are a couple of days out from the COD Next event, where we are promised the first official look at Call of Duty: Warzone Mobile.
The developers have been tight-lipped about the game, only last week confirming that it was, in fact, called Call of Duty: Warzone Mobile.
But the reasons for that are clear - they are saving it for COD: Next, where, alongside Warzone Mobile, we are going to get an extended look at Modern Warfare 2 and Warzone 2.
Thankfully, when it comes to Warzone Mobile, we haven't been completely starved of information, as closed beta tests and the opening of the official website have resulted in leaks in which we've learned of the game's support for 120-player lobbies, cross-progression, and also how well the game's running on a range of smartphones.
It's also likely that the map that no Warzone player wanted to say goodbye to will be the one to launch with Warzone Mobile. However, it may look and play differently than how you remember, as leakers now claim Warzone Mobile will offer up an "alternate version" of Verdansk.
Warzone Mobile's Verdansk Isn't The Map That You Remember
This leak comes courtesy of Warzone Mobile Leakers On Duty, a team of data diggers and statisticians who reliably run the rule over the entire COD franchise.
In a tweet on September 13, they claimed that "Verdansk in Warzone Mobile will be different from the PC/Console Version." Featuring "a mix of certain familiar POIs along with some new locations."
Verdansk in Warzone Mobile will be different from PC/Console Version.

Verdansk in Warzone Mobile will be an alternate version of the classic map, featuring a mix of certain familiar POIs along with some new locations.#warzonemobile #warzone #CallOfDuty #CoDMobile pic.twitter.com/A9Jxcyo5xL

— WZM Leakers On Duty (@LeakersOnWZM) September 13, 2022
The sourcing on this leak was minimal, but we do know that Verdansk has been the map featured in closed beta tests, and it may be that that version is already revealing differences from the Verdansk that so many came to know and love.
However, a complete overhaul is unlikely. Instead. we will likely see a few POIs swapped out, with the map given a touch-up here and there and given a designation like "Verdansk '22".
The return of Verdansk was basically confirmed with a short trailer released during last week's GameSpot's Swipe mobile showcase, the trailer featured gameplay footage of the same military transport plane that millions jumped out of and into Verdansk.
Fortunately, the time for leaks and rumors will soon be over, as the COD Next showcase takes place on Thursday (Sept 15) of this week, where a full reveal of Warzone Mobile is expected, alongside the announcement of an open beta test.
For more COD: Warzone Mobile news and guides, check out: