'Escape from Tarkov Mobile' to some, Arena Breakout is getting a global release. Here is everything you need to know including info on its release date, English trailer, open beta, and more.
Few unreleased mobile titles have quite the buzz about them as Arena Breakout does.
Dubbed an 'Escape from Tarkov clone', the game's obvious similarities to Battlestate Games' unforgiving shooter have done nothing to dampen expectations, which went into overdrive with the release of a cinematic trailer in July of this year that gamers breath away.
Arena Breakout could be a game-changer when it comes to what we consider possible on mobile, with the developers promising a hardcore combat simulator with realistic weaponry, damage models, and survival mechanics.
The game has already launched in China, home of developers Morefun Studios, and is now gearing up for a global release with an English-language closed beta set to begin.
So, if you are as excited as we are to play Arena Breakout and you want to learn more, including the release date, beta access info, and more, keep on reading.
Arena Breakout - Release Date
An official release date for the global launch of Arena Breakout has yet to be announced, but the developers have taken the first steps towards that, with the launch of an English-language closed beta test (CBT) set to begin on November 18.
Unfortunately, at least initially, that closed beta is only available to Android users in Australia, New Zealand, and the Phillippines.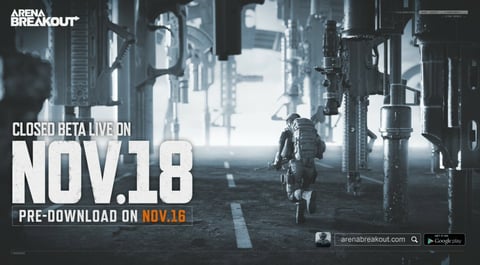 The initial testing period is planned to run for two weeks when after the servers will come down, and progress will be wiped.
Following this, other CBTs will be arranged, hopefully with more regions involved.
How Can I Get In The Arena Breakout Beta?
You can apply for a place in the CBT through the official Arena Breakout website.
Even if you are not in those countries chosen for this upcoming CBT or you game on an Apple device, you can still register your interest, putting you in the front of the queue for any further testing periods.
What Platforms Will Arena Breakout Come Out On?
Currently, Arena Breakout is only available for Android devices, with the developers stating that iOS play tests will be conducted in the future.
A possible PC/console release has not been discussed by the developers.
According to the FAQ on the Arena Breakout website, players are prohibited from using an emulator.
Arena Breakout - Gameplay
Now, let's talk about the good stuff; how does Arena Breakout play? Well, there is a reason this is called Escape from Tarkov Mobile by many. The game doesn't just look like that title but largely plays like it too.
Like Escape from Tarkov, the game is PvPvE. As either a solo or part of a squad, you will enter instanced maps with missions or just the desire to hunt down other squads.
You will find loot spread across the map and on fallen foes, and crucially, you will also have to extract in time if you want to keep any of this looted gear. If you die, you die, with the possibility of insuring the gear you entered the map with.
The CBT will launch with three maps and two game modes, one where you are your main character and the other where you can play as what would usually be an NPC character.
Fight in #ArenaBreakout and return with great loot safely... But first, you have to be familiar with the Maps! Check this video out and learn about the 3 Maps in Arena Breakout!
Sign Up for Regional CBT: https://t.co/x8RjdMLbbz #WinnerTakesAll pic.twitter.com/2jVhbNw92u

— ArenaBreakout (@Arena__Breakout) November 10, 2022
The game also features an expansive gunsmith system, allowing you to customize your arsenal of weapons in countless ways.
Create your very own weapon! With Arena Breakout regional CBT coming soon, it's time to experience this rich, realistic gunsmith system!
Sign Up NOW https://t.co/x8RjdMLbbz #ArenaBreakout #WinnerTakesAll pic.twitter.com/NcV22UDD8B

— ArenaBreakout (@Arena__Breakout) November 13, 2022
There is also a dynamic healing and weather system present, with players needing to source supplies to remain combat effective.
We will continue to update this page with more information as Arena Breakout marches towards its global release.
Until then, why not check out our other mobile gaming news and guides: