Pop sensation Justin Bieber joins a growing list of some pretty out-there collaborations for Garena Free Fire.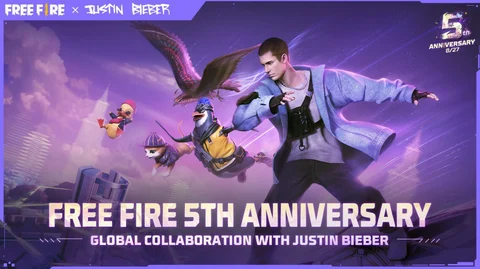 Garena Free Fire, one of the most popular mobile games on the market, has announced a collaboration with Justin Bieber which will see the Canadian pop star debut a new song within the game.
As part of the game's fifth-anniversary celebrations, fans of the battle royale will be able to attend a virtual Justin Bieber concert where they will be able to dance away, play minigames, and even have the chance to hop on stage and get up close with Justin Bieber's avatar - which, at least from the promotional material, doesn't exactly nail his likeness. But it's all about the music... right?
Free Fire Taps Justin Bieber For Fifth Anniversary Celebrations
"I'm excited to partner with Garena Free Fire to have this opportunity to entertain my fans across the globe," said Justin Bieber in the press release announcing the event.
"This collaboration with Free Fire has allowed us to explore various dimensions in which we can integrate my music with games and I can't wait for everyone to enjoy what we have worked hard on behind the scenes."

No word on what song, or songs, Bieber will be performing but we do know that "Reunite the world" is the theme of the fifth-anniversary celebrations and, alongside the pop star, players can look towards competitions, rewards, and giveaways with events planned in-game and out.
We are excited to announce the global collaboration with the international super star Justin Bieber!
Players and fans can look forward to a host of exciting in-game events lined up under this year's 5th anniversary theme Reunite the world.
Read more at https://t.co/vTY9kAXtGY pic.twitter.com/1ynArC6uTO

— Garena Free Fire MAX (@GarenaIndia) July 6, 2022
"We are excited and humbled to partner with a global icon such as Justin Bieber, whose influence in fashion and music has undoubtedly inspired many worldwide, including our Free Fire community which expresses their own creativity through battling in style," said Harold Teo, Producer of Free Fire, Garena.

"Free Fire's fifth-anniversary celebrations will be the biggest yet and I'm sure the lineup of events we have planned will thrill our fans and players."
All this Bieber-infused fun will kick off on August 27 with more details promised as that date approaches.
This isn't the first eye-catching collaboration that Free Fire has witnessed with the shooter previously having featured collaborations with an eclectic group of people and brands including footballer Cristiano Ronaldo, anime Attack of the Titans, and car maker McClaren. Ronaldo even got his own playable model but there is no word yet on whether Bieber will get the same honor.
For more Free Fire news and guides, check out: