This is our Zhongli guide which will show you what to equip and how to build them best.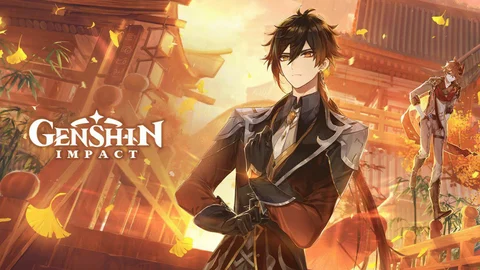 Zhongli is a 5-Star Geo Polearm user who has been a rock-steady addition to Genshin Impact since his introduction to the game in Version 1.1.
He started from the bottom of the tier list and is now considered one of the best in the game due to intensive updates to his kit from Hoyoverse.
Zhongli has proven to be a cornerstone of the game and many top-tier teams.

He can be slotted into a variety of different playstyles. Still, he is primarily used for Support, Shields, Hybrid DPS, and something referred to as Microwave DPS by the Genshin community.
Zhongli is a character who can be fun for players of any kind, and he has some fun quirks about him that can make him someone's favorite or absolute nightmare. Let's get into it.
Update: We made changes to the guide on September 20, 2023.
Genshin Impact Zhongli Build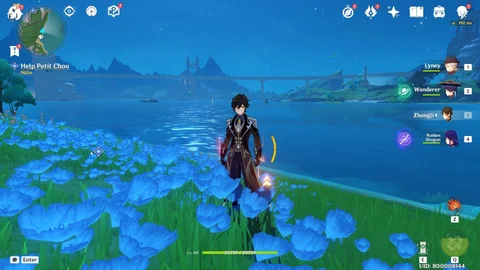 Zhongli has one of the fastest attacks in the game, and he can multi-hit on top of that.
His charge attack makes him lunge forward, causing stone spears to fall along his path.
This charge can be animation canceled, which means he can have excellent DPS if you know what you're doing.
The reason why Zhongli is often sought after is due to his skill called Dominus Lapidis.
When the skill is activated, he creates a Stone Stele, which, when created, deals AoE Geo DMG.
Additionally, it will intermittently resonate with other nearby Geo constructs, dealing Geo DMG to surrounding opponents.
The Stone Stele is considered a Geo construct that can be climbed and used to block attacks.
Only one Stele created by Zhongli himself may initially exist at any time.
Alongside Dominus Lapidis, the passive Resonant Waves are also very important.
The skill passes on Zhongli's Shield Strength, which increases every character who isn't active by 5% Shield and stacks up to 5 times.
Best Weapons For Zhongli Shield Support Build-In Genshin Impact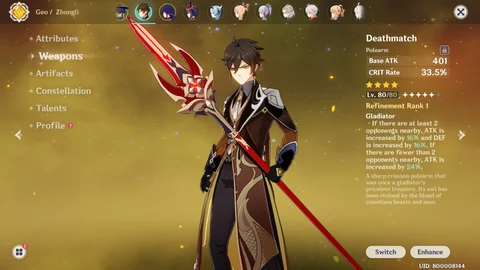 There are many weapons that Zhongli can utilize at the higher tier. But, even midtier and lower-tier weapons can be used by him and make his skill kit sing.
The two we want to focus on right now are:
Black Tassel: HP + 10.2%, Increases DMG against slimes by 40%.
Favonious Lance: CRIT Hits have a 60% chance to generate a small amount of Elemental Particles, which will regenerate 6 Energy for the character. It can only occur once every 12s.
Crescent Pike: After picking up an Elemental Orb/Particle, Normal and Charged Attacks deal an additional 20% ATK as DMG for 5s.
Primordial Jade Winged-Spear: On hit, increases ATK by 3.2% for 6s. Max 7 stacks. This effect can only occur once every 0.3s. While possessing the maximum possible stacks, DMG dealt is increased by 12%.
Best Artifacts For Zhongli Shield Support Build-In Genshin Impact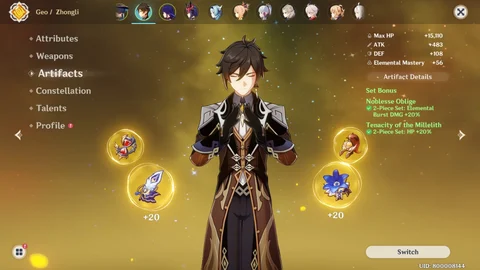 Artifacts will always be a massive thing for characters in Genshin Impact.

But what makes Shield Support Zhongli so good is he doesn't need any specific set to be utilized.
So, as long as you have an artifact with the primary stat or sub stat of HP %, then slot it into him! Another substat to potentially look into is Crit Rate%!
Zhongli Best Team Composition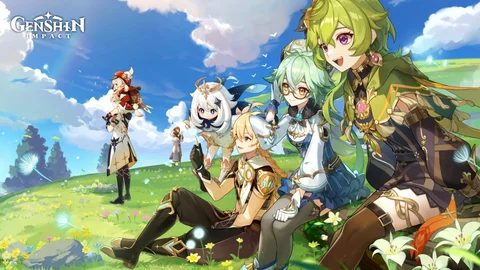 Zhongli is a character who is best slotted into a flex-type role. This means he can ideally work on almost any team you want.
A sample team to look at is Ganyu, Xiangling, and Bennett.
Ganyu is a tremendous main DPS with an intense burst window with her Frostflake Arrows skill.
She cannot move during the charge-up of her attack, so utilizing Zhongli's shields will allow her to charge her attack without worry.
For more guides on Genshin Impact, check out:
This article contains affiliate links which are marked with [shopping symbol]. These links can provide a small commission for us under certain conditions. This never affects the products price for you.