Apex Legends is cross-platform, but with about the mobile title? We look at what is currently supported and what the developers say about Apex Legends Mobile's future as a crossplay title.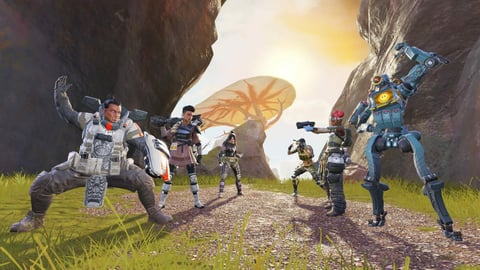 Apex Legends Mobile is a very faithful adaptation of Respawn Entertainment's battle royale, bringing the game's weapons, most of the Legends, and maps to the small screen. But there are a few key differences - you may note we said "most" of the Legends - because not only is there a few missing from Mobile's roster there is also now two mobile exclusive Legends in Fade and Rhapsody taking the game, and its meta, down a different path.
This puts the potential for Apex Legends Mobile to be cross-platform with the mainline game in jeopardy - but, was Apex Legends Mobile ever meant to support crossplay? What have the developers said about a feature many consider to be standard in 2022? We look at the facts.
Is Apex Legend Mobile Cross-Play?
The short answer is - no. Apex Legends Mobile does not support cross-play between itself and the mainline version of the game that is available on Windows, PlayStation 4/5, Xbox One, Xbox Series X/S, and the Nintendo Switch.
Apex Legends on those platforms is fully crossplay with anyone from any platform, able to party up together.
It is not cross-progression, though, so you can't share your progress across the platforms.
Now, with different Legends, different events, and an entirely different release calendar, it seems the chance that Apex Legends Mobile could one day sync with the mainline game is close to zero, but what have the developers said?
What The Developers Say
The issue of Apex Legends Mobile crossplay/cross-platform support was put to bed pretty early by the development team.
In fact, a telling point to make is that the game is a co-development with Lightspeed Studios which means entirely different teams working on different games at the same time. And that is why we have mobile exclusive Legends, and even maps and events, in Apex Legends Mobile.
On the particular point of crossplay, our answer comes from the Apex Legends Mobile FAQ, where the developers stated:
Because Apex Legends Mobile has been built specially for mobile, it doesn't feature cross-play with the console or PC versions of Apex Legends.
So, no, you can't play with your friend on PlayStation or your sister on PC, but what options do you have if you want to play with someone who perhaps doesn't have a smartphone capable of running Apex Legends Mobile.
Use An Emulator
If you are intent on playing Apex Legends Mobile on your mobile device (as you have every right to do) but would like to play with someone on a PC, the only way possible is by the player using the PC to use an Android emulator, like BlueStacks, and to play Apex Legends Mobile via that.
Check out our Apex Legends Mobile emulator guide for a step-by-step tutorial on getting that up and running.
For more Apex Legends Mobile news and guides, check out: