The COD: Next showcase is going to give us the first official look at Call of Duty: Warzone Mobile, alongside Modern Warfare 2 and Warzone 2. Here is everything you need to know, including the start time, stream links, and more.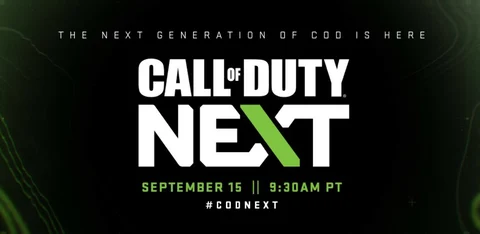 Defining the next era of the Call of Duty franchise is a bold claim, but that is exactly what the Call of Duty: Next showcase, which takes place on September 15, is seeking to do.
Reveals of Modern Warfare 2, the sequel to Warzone, and most importantly for our dear readers, Warzone Mobile are all confirmed for the night. Presented by developers Infinity Ward, those tuning in are told to expect news of "key innovations across the franchise."
Following the event, the Modern Warfare 2 beta is set to begin the next day, and rumors abound that - at the very least - Warzone Mobile's pre-registration will begin.
There will also be more than 150 streamers in attendance, playing the new titles and giving viewers a truly first-person view of the action on show, as many of them will be livestreaming to their own channels.
Of course, there will also be the official presentation for viewers to tune into as well, and if you are a fan of the COD franchise, you don't want to miss this.
COD: Next - Start Time And Livestreams
Call of Duty: Next will take place on Thursday, September 15, kicking off at 9.30 am PT / 12.30 pm EST / 8.30 pm CEST.
It will be livestreamed on both the official COD Twitch and YouTube channels, as well as on Twitter and Facebook. The first half-hour will be taken up by the pre-show, with the event proper starting at 10 am PT. Expect it to last for 1-2 hours.
The reveals you've been waiting for are #CODNEXT on September 15th.
It doesn't matter how you watch, as long as you're watching.

Tune in here https://t.co/EHLpNAcXvq pic.twitter.com/1a2PpPueZU

— Call of Duty (@CallofDuty) September 8, 2022
As mentioned before, there will be over 150 streamers and content creators in attendance - many of who will be streaming to their own channels.
Here are a few of the content creators in attendance, with many co-streaming the event.

Strap in, you're heading to the Warzone

The #CODNext Event starts in 30 minutes. You can watch it on the official Call of Duty Youtube Channel or you could watch from your favourite partnered creators' streams. Check them all out below and choose who you want to watch! pic.twitter.com/Cd82QTfYEB

— Warzone Mobile Intel (@INTELwzm) September 15, 2022
What Can We Expect?
A lot. At least if we are to take the word of the developers. Taking center stage is undoubtedly Modern Warfare 2 - the latest mainline game in the COD franchise.
That title is the closest to release, and, for those that have pre-ordered, the multiplayer open beta is scheduled to start the very next day.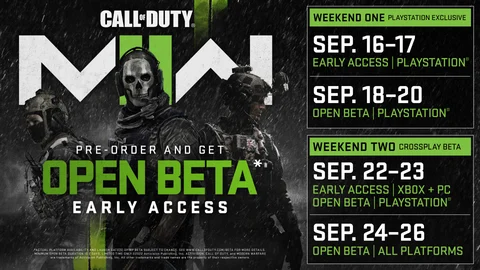 So, we can expect a huge amount of information about this game; the Call of Duty Twitter has already begun teasing new maps and features, and this will be expanded on at COD: Next.
Here's a sneak peak at one of our favourite new #ModernWarfare2 maps

Tune into #CODNext tomorrow at 5.30PM BST for an even deeper dive into new #MWII maps and modes. pic.twitter.com/THSSzQ5C5p

— Call of Duty UK (@CallofDutyUK) September 14, 2022
But there is no doubt that the hype is around the sequel to Warzone and Warzone Mobile. However, how much we actually see of either of those games is less certain.
In terms of Warzone 2, there has been very little leaked in the run-up to this event, and it may well be that we just get the first solid pieces of information about the title and not much in the way of gameplay. Taking a more positive outlook, there are over 150 people in attendance, and if that doesn't scream battle royale, we don't know what does.
On the Warzone Mobile front, there is plenty of evidence to suggest we are going to learn a lot about the series move onto mobile.
The game has been in closed alpha for several months now, and official social channels and a website have sprung up in the past week that have divulged - not always deliberately (or maybe it was) - key pieces of information.
We've learned that Warzone Mobile will support 120-player lobbies, cross-progression with presumably MW2 and Warzone 2, and that there will be pre-registration rewards up for grabs.
Speaking of pre-registration, we've learned that it will likely begin during or immediately after the event.
This piece of information was leaked by Spanish content creator FlexZ of MAD Lions, who posted a picture of the 'swag bag' given to those in attendance at COD: Next. Laid out on the bed, alongside the rest of the swag, was a card with a link detailing where attendees could go to pre-register for Warzone Mobile.
It appears that Pre-Registration for #WarzoneMobile is now available for content creators going to #CODNext.

It will surely be available to everyone on Thursday, at some point during the event.

Crdts @FlexZCOD pic.twitter.com/teePGkIW9q

— Warzone Mobile(tm) (@PlayWZM) September 14, 2022
Unfortunately for us, FlexZ was smart enough to cover the link with an emoji, but many are taking this as confirmation that pre-registration details will be divulged during the event.
For more COD: Warzone Mobile news and guides, check out: