Summer Fantasia is the name of the Version 2.8 that's coming to Genshin Impact! Here's all the details about the new character, outfits, Summertime Odyssey, Story Quests, and more!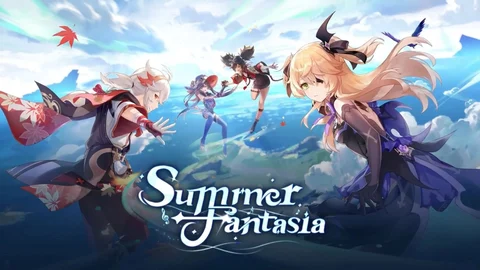 The details of the new v2.8 update in Genshin Impact have finally been announced! This follows Hidden Dreams in the Depths, v2.7, which was released in May 2022. We expect new content with every new update and the devs didn't disappoint this time. In a new trailer teasing what's to come, we know that it will be called "Summer Fantasia". Here's the trailer:
Wasn't that just amazing? Well, we think so too. Lucky for us, there is A LOT to unpack from those short few minutes. There's a new character, weapon, outfits, Story Quest, bonuses, and a whole lot more! Let's take a closer look...
Release Date
Genshin Impact version 2.8, Summer Fantasia, will be coming on July 13, 2022. This follows the usual six-week schedule in between in-game updates.
New Character: Shikanoin Heizou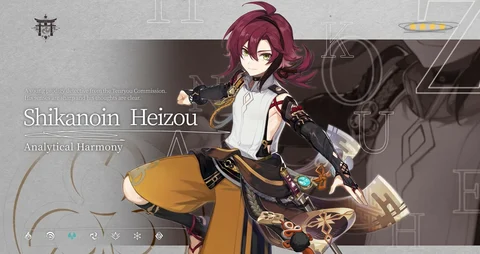 As revealed by the HoYoverse team shortly before the v2.7 livestream, Shikanoin Heizou will be the new character coming to Genshin Impact! In the Summer Fantasia trailer, he is described as:
A young prodigy detective from the Tenryou Commission. His sense are sharp and his thoughts are clear
Heizou is an active fighter against the plight of the criminal kingpins. He's known to be reckless, but Kujou Sara believes in his crime-solving abilities.
Shikanoin Heizou Skills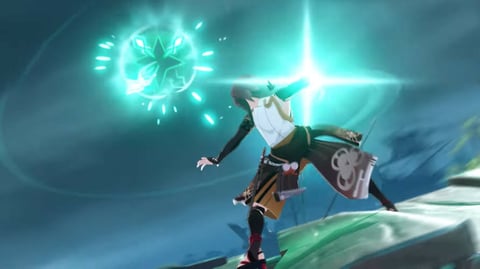 Heizou will be Genshin Impact's first-ever melee catalyst user. He uses a catalyst and carries an Anemo Vision. His Elemental Skill and Elemental Burst are all unarmed fighting techniques similar to his Normal Attack.
His Elemental Skill will launch a Heartstopper Strike. Charging this Elemental Strike can grant Heizou special "Declension" stacks. If a certain number of Declension stacks is reached, his Elemental Skill's damage and AoE will be increased!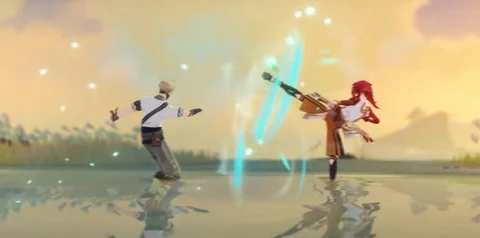 Heizou's Elemental Burst will summon a Windmuster Kick which will pull in all nearby enemies and deal AoE Anemo damage. But if the enemies are affected by the Hydro, Pyro, Cryo, or Electro element a delayed follow-up explosion will occur that will deal damage in response to the corresponding elemental type.
Besides this, Heizou can decrease the sprinting Stamina consumption of the player's own party members.

New Weapon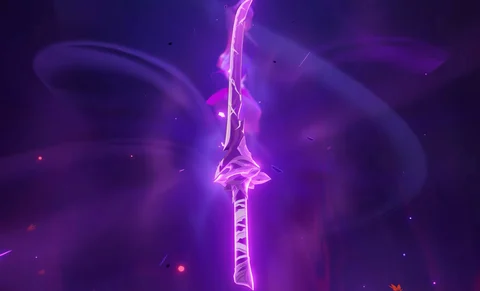 Kaedehara Kazuha will be making a return! Since he was first introduced into Genshin Impact a year ago, this wandering samurai of the famed Kaedehara clan can be seen entranced by the glowing new purple weapon in the Summer Fantasia v2.8 trailer. He says that:
When I touched the hilt for the first time, it's as if I was transported to a strange dimension!
This could mean that the weapon can transport characters to new undiscovered areas! But the hype isn't over! Kazuha will be involved in the first chapter of his own personal Story Quest and will tell players about his close friend Shikanoin Heizou!
Besides this, we now know, after a brief post posted on the HoYoLAB website from the official Genshin Impact team, that there is a backstory to this strange new weapon. This is what the devs had to say about it:
A cursed blade of unknown origin, a mysterious unsolved case, and the familiar but not too familiar islands far at sea..

O seasoned warriors, fear not the depths of despair and death borne from chaos!

For the Prinzessin, holiest of sovereigns of the kingdom where the night is sacred, will therefore declare the verdict of victory.

And so, everyone followed the path of their destiny, ready to take on unknown encounters and challenges.
Summertime Odyssey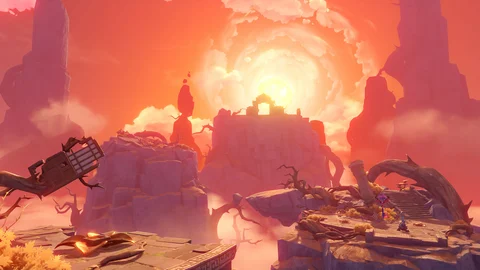 Unlike previous island adventures in Genshin Impact, the Summertime Odyssey event this year will bring players a new and improved version of the Golden Apple Archipelago. There will be a flurry of new landscapes, stories, and even better rewards such as new treasure chests!

Each island in the Golden Apple Archipelago will be transformed to have more themes and puzzles. Characters such as Xinyan, Fischl, Kazuha, and Mona will also be accompanying players through certain areas and aid them as they run into new and unexplored realms.
On top of that, players will have the opportunity to get the new limited-time-only four-star character, Fischl, and her newest outfit!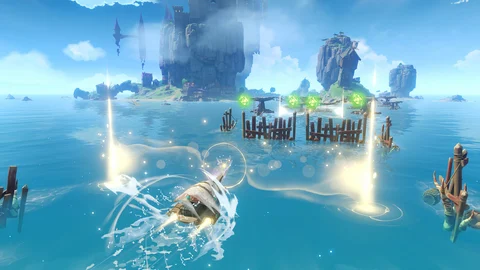 In the new Summertime Odyssey update, players can either speedrun with their Waverider or choose a new method! This new method is one where they can sail with friends in a new event.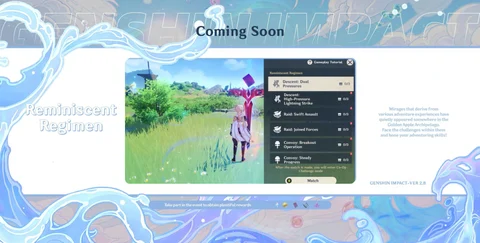 A new co-op-specific event called the Reminiscent Regimen will come in three different game modes. The first one, known as Convoy Mode, requires all players to escort a large raft to its destination. Raid, the second mode, requires all players to pilot their own Waverider to board floating platforms and take out their respective enemies. In the final mode, Descent, players will have to engage in combat down from a high platform floating in the sky.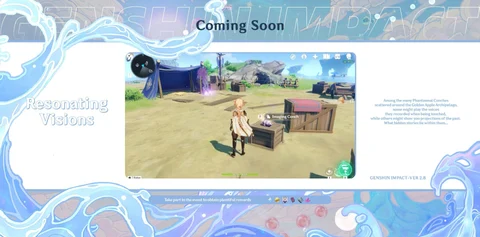 Special conches can be collected along the beach during the Resonating Visions event. If a certain number of these conches are collected, you may be able to redeem Fischl's new outfit!
New Outfits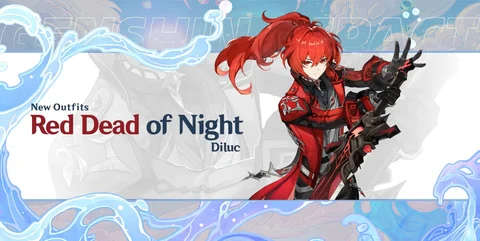 Diluc will receive a new outfit known as "Red Dead of Night". This outfit will feature a new look, idle animations, and new effects. This skin will be available in the shop. The full backstory and a trial stage can be found in the Hidden Strife challenge event that will be dropping soon.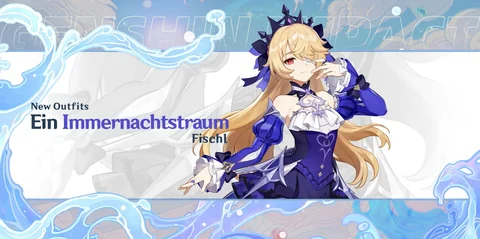 Fischl will receive a new outfit in the Summer Fantasia update. It is called Ein Immernachtstraum.
New Character Bonding Events
The 2.8 update will allow players to spend more time with all the characters in Genshin Impact. Diluc, Kaedehara Kazuha, and Shikanoin Heizou will appear in the newer events and stories that players will soon be able to enjoy.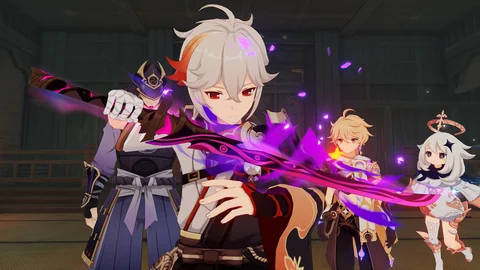 Kaedehara Kazuha has been in Genshin Impact for over a year and he will now finally have his own Story Quest known as Acer Palmatum Chapter!
A post from the Genshin Impact team on the PlayStation Blog site gives us a short backstory:
Coming from a renowned family of swordsmiths in Inazuma, Kazuha's story seems to be related to a mysterious sword and a duel
More Bonuses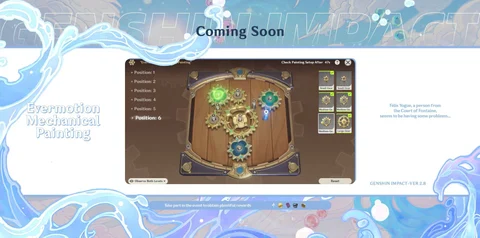 The update will also see more events and rewards coming your way. In the Evermotion Mechanical Painting event, players can solve an in-game puzzle to get a furnishing for their Serenitea Pot.
That's all we have for the news on the Genshin Impact Summer Fantasia 2.8 update. Check out other news we have on the game below: