Graven Innocence is a brand new limited-time event that will take players on an adventure in Genshin Impact! Check out all the details below.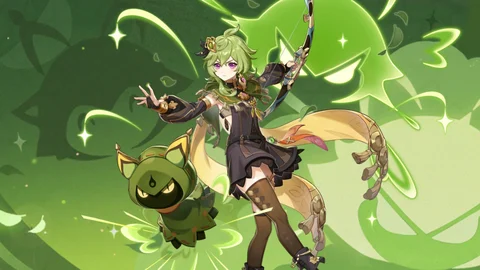 The first of many events to arrive in Genshin Impact after the version 3.0 update is Graven Innocence. It is organized in multiple stages that will be spread out gradually until the release of the version 3.1 update.
During the event, you will have to complete "The Unappreciated Carving" quest to invite one of the game's newest Dendro characters: Collei. From there, you can help the staff in the famous Sumeru store Acara Crafts by finding assistants and collecting inspiration regarding the toy-making process. There's so much in store waiting for you at this event. So, let's go through all the details you need to know about it!
Graven Innocence Event - Eligibility
You know the drill - every Genshin Impact event has its own set of eligibility criteria that you have to pass before you can participate in it.
This is the eligibility criteria for the Graven Innocence event:
Adventure Rank 20 or above.
Completed "The Trail of the God of Wisdom" in Archon Quest Chapter III: Act I "Through Mists of Smoke and Forests Dark". Alternatively, you can enter the Graven Innocence event through "Quick Start" on the event page after completing the Archon Quest "Prologue: Act I - The Outlander Who Caught the Wind."
Graven Innocence - Duration

As we mentioned earlier, there are multiple stages in the Graven Innocence event - four, to be exact. Not much is known about which events will be released during each stage. But we do know that these stages will be released in sequence over the coming weeks and will all end on the same day that version 3.0 ends.
Here are the full details of when you can expect each one of them to be released:
Stage I: August 24, 2022 (version 3.0 release date).
Stage II: August 27, 2022, at 4 am local time.
Stage III: August 30, 2022, at 4 am local time.
Stage IV: September 2, 2022, at 4 am local time.
A special event shop will be available throughout the Graven Innocence event.
Graven Innocence Event - Quests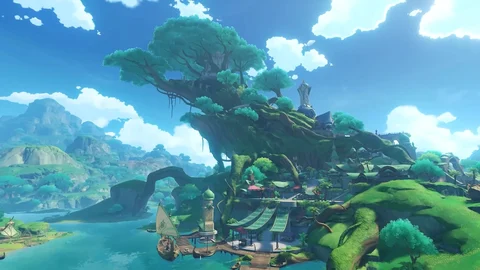 A series of quests and game modes will become available during this event. Each with its specific set of tasks and objectives. Though not much information has been revealed yet, we were given a preview of what to expect to come in Graven Innocence.
These are the details:
The Unappreciated Carving quest: Complete this quest during the vent to invite Collei and unlock events like "Meticulous Craftsmanship", "Roaming the Jungle", "Metamorphosis of Wood", and more.
Roaming the Jungle quest: It will include game modes such as Snapshots, Behemoth Observation, Grove Dash, and Braving the Elements. This gameplay mode will be unlocked over the course of the event.
Behemoth Observation: this game mode can only be completed by challenging the Electro Regisvine and Jadeplume Terrorshroom in the wilds.
Metamorphosis of Wood: use Carving Components in this game mode to assemble an Aranara Woodcarving. Keep in mind that there is a limit to the number of carvings that can be displayed. This number will increase as the event progresses.
Graven Innocence Event - Enemies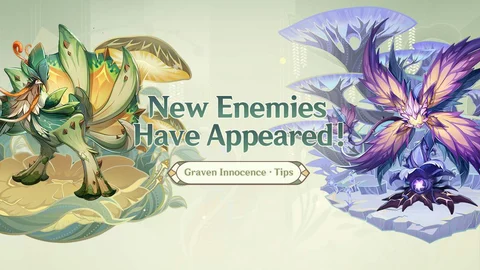 Two enemies will be present in the Graven Innocence event in Genshin Impact: Jadeplume Terrorshroom and Jadeplume Terrorshroom. Each has its strengths and weaknesses. We'll cover each of them for both enemies below.
Electro Regisvine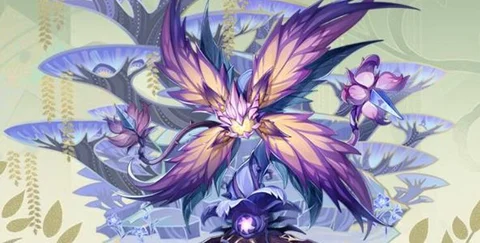 The Electro Regisvine is a predatory plant in the same vein as the Cryo and Pyro Regisvines. It can create an organ that resembles Electro Cores at its roots or corolla. When this organ starts to shift, its state will change to either a Waxing Stamen or a Waning Stamen.
If both Stamens are present at the same time, they will attract one another and then unleash a strong electrical explosion upon contact. Quickly destroying these stamens is important if you want the battle with the Electro Regisvine easier.
Jadeplume Terrorshroom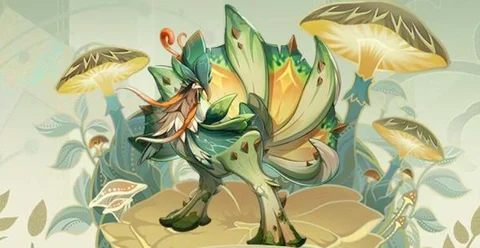 The Jadeplume Terrorshroom is an evolved Fungus. When it is hit by Electro attacks and Catalyze reactions, the Jadeplume Terrorshroom will accumulate Activation. When it is hit by Pyro attacks, it will lose its Activation progress. When a certain amount of Activation is collected, the Jadeplume Terrorshroom will enter an Activated state which allows it to deal more devastating attacks until it becomes exhausted.
The Jadeplume Terrorshroom can be put into a Burning state using the Pyro element - resulting in it becoming Scorched. It will then spread spores around itself to create Fungi in an attempt to escape the Scorched status. So, be sure to exploit Elemental Reactions to defeat the Jadeplume Terrorshroom.
Graven Innocence Event - Rewards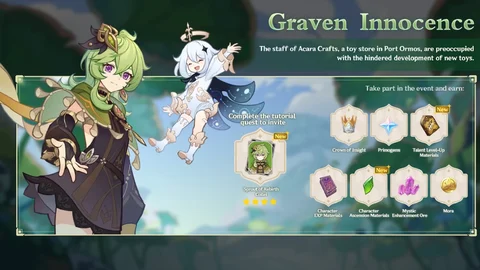 Each game mode and quest will have its own set of rewards after you complete them. However, the specific number of rewards has not been revealed. HoYoverse has revealed the types of rewards we can expect to receive.
Here are all of them that are available in the Graven Innocence event:
Crown of Insight
Primogems
Talent level-up materials
Character EXP materials
Character Ascension materials
Mystic Enhancement Ore
Mora
Make sure you claim these rewards before the Graven Innocence event ends!
This is still a developing story with much information yet to be released soon. When they are, you can be sure to spot them here on this page, so stay tuned!
Stay up to date with the latest Genshin Impact news and guides: