Tower of Fantasy offers players the unique opportunity to customize their in-game characters. Here's how you can do that!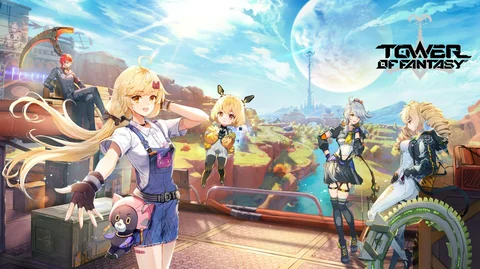 Tower of Fantasy is an MMO role-playing game that allows you to customize your character in any shape and way possible. However, this feature might be difficult to notice as you are immediately thrust into the heat of the story mode with no tutorial on character customization.
So take this as your nifty little guide on how you can customize your character in Tower of Fantasy and the other available in-game customization features!
How To Customize Your Character In Tower Of Fantasy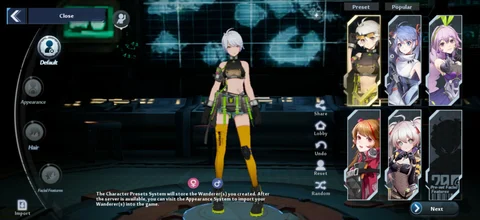 Customizing your character in Tower of Fantasy is a pretty simple task. Just follow these steps and you'll be making your perfect character in no time:
Launch the Tower of Fantasy app.
Select the 'Preset' button located on the right-hand side of the Home Screen.
You will be directed to a Character page. From there, you can choose if you want your character to be a male or female.

After this, locate another 'Preset' button in the top right corner (next to the 'Popular' button)
You can choose from a selection of presets.
Once a preset has been chosen, you can start customizing three categories of your character: appearance, hair, and facial features.
Select the 'Complete' button at the right-hand corner of the screen once you're finished with your character customization.
Character customization was built to be as seamless as possible because you can undo a change, reset the changes made to your character, or completely randomize your character's appearance.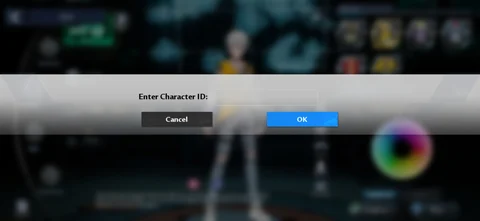 Alternatively, if you like the design of the appearance of a friend's character, you can import their character design through the 'Import' button located at the left-hand bottom of the character customization screen. All you have to do is enter your friend's 'Character ID' and select 'OK' to import their appearance.

What Can You Customize For Your Character?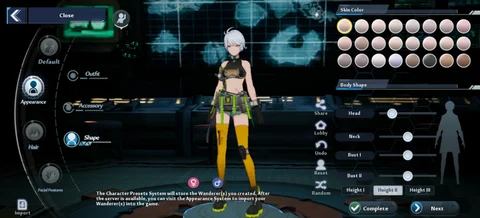 As we mentioned earlier, there are three categories that you can customize to change the overall look of your character: appearance, hair, and facial features. There are several in-depth changes that you can make depending on your preferences. Let's go through all the sub-ca
For appearance, these are the changes you can make:
Outfits (clothes and colors)
Accessories
Shape (Head, Neck, Bust, and Height)
For hair, these are the changes you can make:
Hair type (presets or custom; front, middle, and back appearance)
Hair color (top, rear, and shade)
Hair accessories
For facial features, these are the changes you can make:
Face
Eyes
Nose
Mouth
Markings
Stay up to date with the latest Tower of Fantasy news and guides: