Avatar Generations is a turn-based squad RPG that brings you back to the Four Nations, but is it a gacha?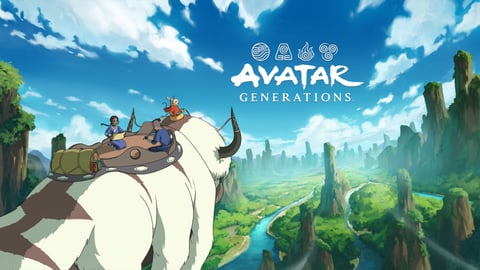 Avatar Generations launched this week, a turn-based squad RPG based on the beloved animated series Avatar: The Last Airbender. But upon observing this particular description and taking a brief look at the game, a question arises: is Avatar Generations a gacha game?
In this article, you will learn more about why yes, the free-to-play game Avatar Generations can be considered a gacha. First, it is necessary to determine what would be a gacha game nowadays. It will be a brief explanation, so stay with us. We have split these definitions into three central features found in all gacha games.
Mechanics And Characters
Gacha is a game defined by some particularities of gameplay and monetization structures. The main one is the gacha mechanic, spinning a wheel of possibilities to get random rewards. And in most games, these are characters or weapons. This is the case in Avatar Generations, in which this simple but effective feature is done through Summon Tickets.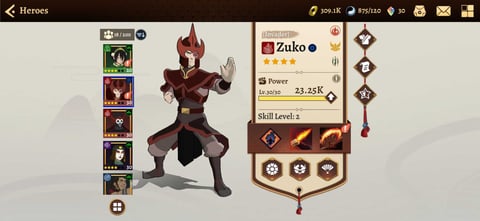 Summon Tickets gives you a roll to get characters, weapons, or accessories.Nature Stones are the currency that buys a Summon Ticket. With 50 Nature Stones, you can roll once, with 500, ten times, and so on.
Resources
Another aspect strongly present in gacha titles is the resource management mechanic. These resources are necessary for the evolution of characters and equipment and their drop rate and quantity. Through these aspects, the developers define the number of in-game tasks a player must do until they can pull the gacha again and get their desired prize. In Avatar Generations, this is done by completing quests or microtransactions.
In this sense, a decision-making mechanic is also thought out for the player. One will need to strategize how to use the resources, whether for gacha pulls or other activities within the game.
Microtransactions
Should one choose to pay for microtransactions in Avatar Generations, they can speed up not only leveling up their characters but also the amount of resources normally acquired simply by playing the story.
These mechanics turn up repeatedly in what would be considered a gacha game.
In this game, you can initially buy the Starter Pack, which grants you access to Aang's Sky Bi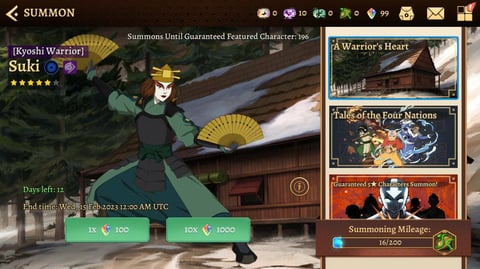 son, Nature Stones, Energy, and Gold. In the Warrior's Heart Pack, the player gets 15 Summon Tickets and Nature Stones. The player can also buy Energy Refills, Nature Stones, and other in-game resources separately through microtransactions.
So Is Avatar Generations A Gacha?
Undoubtedly, yes. But Avatar Generations making you pull 200 times to get a Summon featured character is not fair. And this is the case with the Summon in the 'A Warrior's Heart' banner, which currently has Suki, a five-star character, as its main pull.

For comparison, let's look at how Genshin Impact, the proto-typical gacha, utilizes a similar system.
In HoYoverse's game, through the Pity System, the player has a guaranteed chance of receiving the featured character in the event banner from 80 pulls, with increasingly higher chances after that. Very rarely, some will need to do 200 pulls.
Also, Avatar Generations is a game of questionable quality, the game isn't the prettiest to look at, and the mission structure isn't the most interesting. So while it is a gacha, the real question is whether it's a good game in its own right.

For more mobile gaming news and guides, check out: