Ubisoft has announced that Rainbow Six Mobile is entering closed beta testing, giving more players the chance to play the game before launch.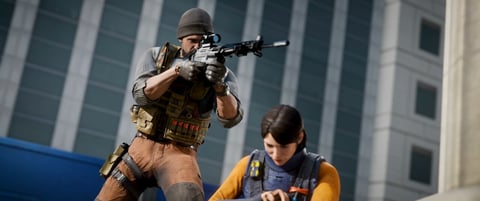 Ubisoft has announced the next step in Rainbow Six Mobile's launch schedule with the announcement of a closed beta test set to start in the fall.
Fans were told to keep an eye on the game's official YouTube channel today (August 4) for a "hot" announcement. Many guessed that it would likely be a reveal about the next testing stage - and that has proved to be correct, with the developers announcing a closed beta test is set to take place in "fall 2022."
The announcement was made via a "pre-registration trailer" that has already got fans of the franchise even more hyped about its arrival to mobile.
Rainbow Six Mobile Getting Closed Beta This Fall
Rainbow Six Mobile has already had a closed alpha test, but that was restricted to those that reside in North America, this closed beta is expected to be available in more regions with the pre-registration trailer "calling all operators."

However, iOS gamers hoping to take part this time around are out of luck as this is, once again, an Android-only test.
Interested players are being asked to pre-register through the Google Play store, which will send a notification to your device when the game is available.
When exactly the game will enter closed beta has not been made clear, with the developers simply stating "fall 2022." That likely means at some point in September but we can't confirm this yet.
It's also not known if the closed beta will have an end date; it may simply roll into an open beta or even a global launch.
One man who claims to know is mobile leaker, DannyIntel, who claims the closed beta will start on September 1 and run until November 30, giving players two months to try out the game.
Beta of R6M is coming between September 1st to November 30th! pic.twitter.com/dw8MaBOtGD

— Danny (@DannyINTEL) August 4, 2022
Though take this with a grain of salt because these dates aren't mentioned anywhere by Ubisoft, and it's not yet clear where this information has come from.

For more mobile gaming news and guides, check out: