Are you looking for a quick over view of the new Honkai Star Rail event? Look no further than this guide.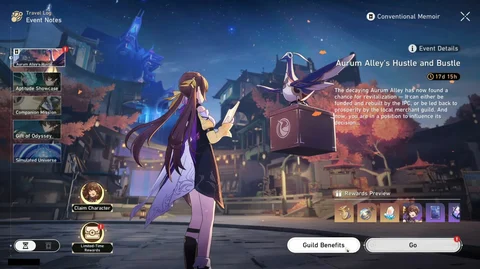 The decaying Aurum Alley in Honkai Star Rail is now facing a chance of revitalization It can either be funded and rebuilt by the IPC, or be led back to prosperity by the local merchant guilds.
And now, you are in a position to influence its decision.
If you are wanting a quick overlook of the Logistics Planning and how to unlock them, look no further!
Logistics Planning Overview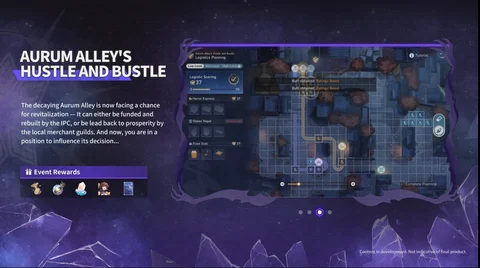 During Aurum Alley Operations, you can plan routes in "Logistics Planning" and obtain corresponding rewards by achieving certain logistic scoring.
After completing Merchant Events, you can unlock the corresponding stores in Logistics Planning and plan the logistics route from the store to the dock.
After achieving Aurum Alley's Phase Goal, there will be "Streetside Events."
Complete them to obtain rewards and unlock the route advantages in Logistics Planning.
After advancing Aurum Alley's Operations Phase, the Low-Elevation, Mid-Elevation, and High-Elevation logistics lanes will be opened in order to accommodate more stores.
Inventory Arrangement Overview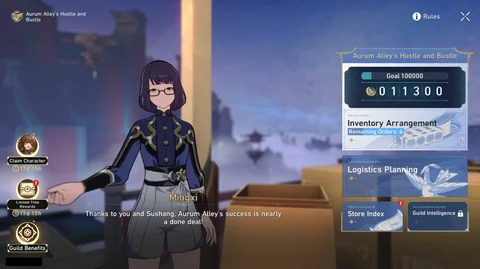 During Aurum Alley's operations period, you can earn Merchant Guild's funds via Inventory Arrangement.

After completing Merchant Events, you can add new orders and goods for Inventory Arrangement.

After achieving Aurum Alley's Phase Goal, you will unlock the "Custom Order" of each store as a gameplay challenge.

After advancing Aurum Alley's Operations Phase, a larger-capacity freight starskiff will become available, allowing for larger shipping revenue.
Back In Business (I) Mission Overviews
The entire Aurum Alley event is focused around the Trailblazer helping out small businesses in the Alley so that the community can be revitalized.
You will need to achieve specific goals by completing small tasks, which will earn you more money for the Marchant's Guild Fund.
To do so, you will need to complete some quests and events to reach the end of the event eventually. These quests are called:
Inventory Arrangement I
This is your first quest, where you learn how to stack items for a shipment. You will need to complete four orders!
Merchant Event: Food Stand
After you complete the four orders, you will be able to start the Food Stand event.
This quest is very straightforward, so just follow the markers to complete the mission.
Then after that first mission is complete, you will unlock your first Logistics puzzle for the Food Stall.
Inventory Management II
Return back to the event NPC, Mingxi, and do the four new orders for Inventory Management, and you will then hit the next goal for the Merchant Fund of 100,000.
Merchant Guild Letter of Appreciation I
After completing all of the quests and puzzles up to this point, you will receive a Merchant Guild Letter of Appreciation in the main.
In this letter you will unlock more jobs to do via Streetside Events and Custom Orders.
Streetside Events
There are three Streetside Events for you to complete now.
Each of the events requires you to do a Abacus Circuitry puzzle these will increase in difficulty, so don't think that the first one is too easy!
Custom Orders
Now, you will need to do Three Custom Orders.
Each one of these orders will be specific to whichever store you visit.
You should have already completed one of them, Heron Express, so there are two orders left: Food Stall and Oldies Depot.
Logistics Planning Low-Level Unlocked
Finally, after completing the Merchant Guild Letter of Appreciation, you now need to go back to Mingxi, and you can start doing more Logistics Planning.
The Low-Level sections of Logistic Planning have gotten a bit more difficult with more buffs and obstacles in the way; the max points have gone from 45 to 90.
For more guides on Honkai Star Rail, check out:
This article contains affiliate links which are marked with [shopping symbol]. These links can provide a small commission for us under certain conditions. This never affects the products price for you.