If you struggle to choose the attachments for DP-28, this guide can come in handy. Read on, and you'll find the best loadout for the DP-28 in PUBG Mobile.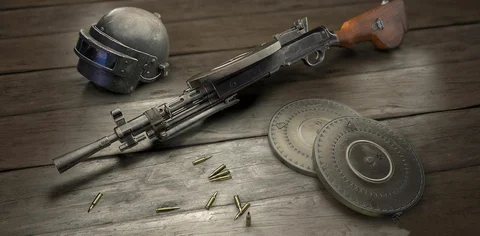 The DP-28, also known as the Degtyaryov Machine Gun, is a 47-round light machine gun (LMG) in PUBG Mobile capable of eliminating enemies with a relentless storm of bullets. It's extremely powerful on its own, but like other weapons, it can be improved.
This starts with having a proper loadout and it can be your game-changer in every single battle.
In this guide, we have composed one of the best attachment loadouts for the DP-28 in PUBG Mobile. It's suitable for both seasoned veterans and newer players of the game.

Best DP-28 Attachment Loadout In PUBG Mobile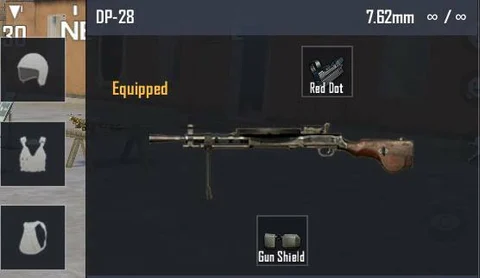 The DP-28 is a powerful light machine gun that can be found in Erangel, Nusa, and Livik. Its distinctive feature is a 47-round pan magazine, which allows you to eliminate even the entire squads with a single clip.
As some of you may know, the DP-28 is a vintage weapon and it is capable of carrying only 2 attachments - one of which is a Scope. This lack of attachment slots is arguably the most significant disadvantage of this firearm.

Here is the best DP-28 attachment loadout in PUBG Mobile:
Scope: 2x Red Dot Sight
Tactical Attachment: Gun Shield
Unique to the DP-28 and M249, the Gun Shield is a special armor plate that can be attached to weapons. It's especially useful for blocking enemy gunfire and can be deployed upon going prone. If you want to stay safe and avoid taking damage, it's highly recommended to use this Gun Shield attachment with your DP-28.
For the second attachment, we chose the 2x Red Dot Sight as it maintains the balance between recoil and working range. But if you find it hard to aim with the 2x Red Dot Sight, feel free to use the classic Red Dot Sight as it also works perfectly for the DP-28.
DP-28 Weapon Stats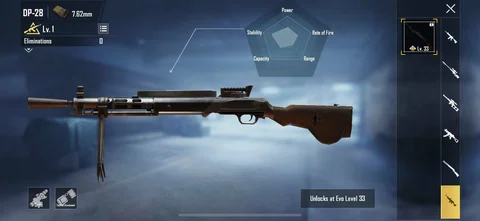 Mastering the DP-28 not only takes a good loadout but also understanding what the weapon is capable of. This requires taking a look at the weapon's stats. Once you familiarize yourself with these numbers, it will be easier to adjust your playing style to meet the weapon's demands.
The weapon stats for DP-28 in PUBG Mobile are as follows:
Power: 48
Rate of Fire: 42
Range: 35
Magazine Size: 47
Stability: 67
Reload Speed: 5.4 seconds
While the DP-28 stats look good on paper, a reload speed of 5.4 seconds is a significant disadvantage that cannot be fixed by using attachments.
Thus, if this weapon is not to your liking, a good alternative would be the M416, AKM, or any other assault rifle.
For more PUBG Mobile guides, check out these articles:

This article contains affiliate links which are marked with [shopping symbol]. These links can provide a small commission for us under certain conditions. This never affects the products price for you.