Want to increase your effectiveness and play better with the QBZ? Check out our best QBZ attachment loadout in PUBG Mobile and eliminate enemies with ease.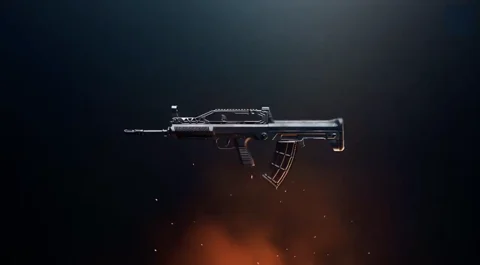 Exclusive to Sahnok and Livik, the QBZ is a rapid-rife assault rifle and has one of the best fire rates in PUBG Mobile. Altogether, that makes this weapon a versatile option and a suitable firearm for both close and medium-range encounters.
To make this weapon perform better, you should use a proper QBZ loadout with the right attachment setup. That's what we try to achieve in this guide.
With these attachments, you can expect to increase the QBZ's time-to-kill and make it more suitable for long-range encounters. That said, here's a look at the best loadout possible for this weapon.

Best QBZ Attachment Loadout In PUBG Mobile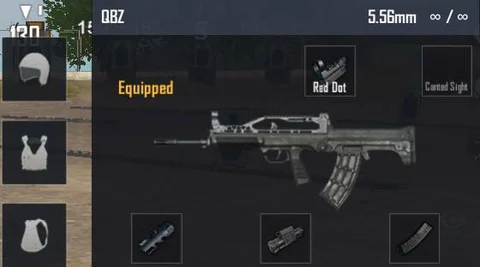 Although the QBZ has only four slots for attachments, it's plenty enough to allow players to customize the weapon and adjust it according to their playstyle.
It might be a bit more difficult to customize compared to other ARs such as the M416, but still enough to make the QBZ versatile and a game-winning weapon.
Here is the best QBZ loadout in PUBG Mobile:

Muzzle: Compensator
Sight: x2 Scope or Red Dot Sight
Magazine: Extended Quickdraw Magazine
Foregrip: Laser Sight
In our QBZ Loadout, we have two options for Scope: Red Dot Sight and x2 Scope. The Red Dot Sight should be used only for close-range encounters, while the x2 Scope perfectly works for mid and long-range combat. Choose the one that meets your playing style.
If you find it difficult to control the QBZ's recoil, feel free to replace Laser Sight with the Vertical Foregrip. It decreases QBZ recoil, making the weapon much more controlled.
The Compensator muzzle and Extended Quickdraw Magazine are great attachments for accuracy and sustained battles.
QBZ Weapon Stats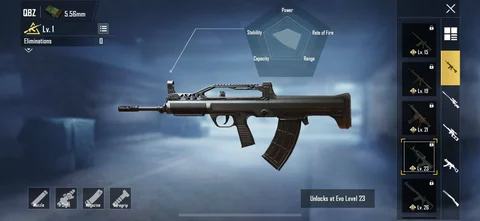 If you like playing on Livik and Sanhok, you might be looking for a way to master the QBZ in PUBG Mobile. The best thing you can do for it is to have a look at the stats of this weapon. Knowing this, you can better prepare yourself for battle.
The QBZ's stats in PUBG Mobile are as follows:
Power: 41
Rate of Fire: 56
Range: 56
Magazine Size: 30
Stability: 63
Reload Speed: 3.66 seconds
Compared to other guns that use 5.56 ammunition, the QBZ has decent stats - and it is one of the best-performing ARs on Livik and Sanhok. A key thing to take note is that the QBZ's fire rate outperforms other ARs like the AKM.
Still, keep in mind that weapon stats in PUBG Mobile are not permanent and can be changed over time. So, keep your eyes peeled for adjustments to these numbers in the future.
For more PUBG Mobile guides, you may be interested in:

This article contains affiliate links which are marked with [shopping symbol]. These links can provide a small commission for us under certain conditions. This never affects the products price for you.