Use these Fruit Battlegrounds codes to get free gems! (Updated: February 2023)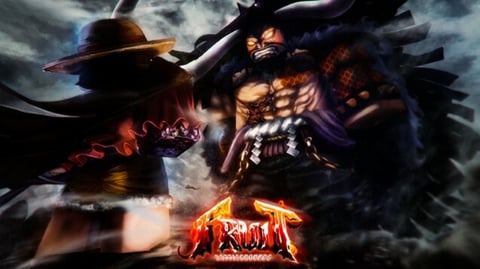 Roblox isn't short of anime-inspired games, but there are definitely ones that stand above the rest, with P O P O's Fruit Battlegrounds being one of them.

Players can take on the form of a number of iconic anime characters before setting off into a world where everyone is their enemy.
This game is all about fighting, and it possesses some of the most well-realized combat in any Roblox game. However, it isn't all fun and games, as the best characters are locked behind a gacha system, with players needing to purchase pulls, using gems, to gain access to them.
Gems can be purchased using Robux, but there is another way to acquire them, and that is by using Fruit Battleground codes.
Below we explain how you can redeem Fruit Battleground codes, as well as list all the currently working codes for the game.
How To Use Fruit Battlegrounds Codes
Redeeming Fruit Battlegrounds codes is easy, as it can be done from within the game.
To do so, follow these instructions:
Launch Fruit Battlegrounds from the Roblox app.
Once you are in the game, click on the 'Spins' menu.
On the bottom left, you will see a text input box titled 'Codes'.
Enter one of the working Fruit Battlegrounds listed below and click 'Redeem'.
If successful, you will receive a message at the top of the screen saying 'Successfully Redeemed Code'.
Some codes are time-limited, so if you discover a new one, use it as soon as possible.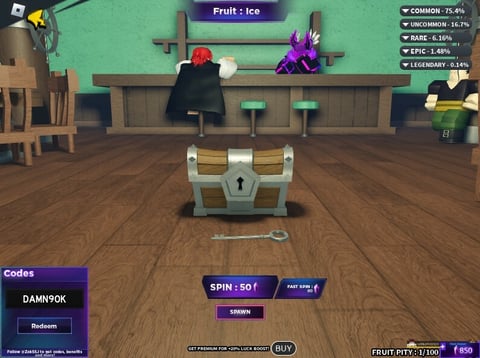 With that out the way, let's look at the working Fruit Battlegrounds codes.
Fruit Battlegrounds - Active Codes (February 2023)
Fruit Battlegrounds codes can get you free gems and other rewards. Here are the currently active codes as of February 1, 2023.

140KAGAIN – free gems (new!)
FATSTACKZ – free gems (new!)
ITJUSTDONTSTOP – free gems (new!)
RAININGGEMS! – free gems
GEARFOOOOURTH – free gems
LONGAWAITED – free gems
LETSGOO130K – free gems
UPDATETIMEEE – free gems
GOLDENDAYZ – free gems
PAWGOKRAZY - redeem for 400 gems (new!)
80KAHHHHH – free reward
THXFOR70K – free gems
FREEBREAD! – 300 gems
60KLETSGOOOO – 350 gems
SORRY4SHUTDOWN – 250 gems
MAGMALETSGOO – 900 gems
50KINSANE – 500 gems
40KDAMN – 350 gems
35KWOWBRO – 200 gems
30KLOVEYOU – 550 gems
Expired Fruit Battlegrounds Codes
Here are all the expired Fruit Battlegrounds codes.
25KINSANE!!
20KCRAZY
15KNOWAY
THXFOR10K
7KTEAM
5KSQUAD
4KGANGO
3KTHXBRO
WUPDATEORNAH
2KLETSGOOO
PRESENT4YOU
1KLIKESGANG
Where To Get More Fruit Battlegrounds Codes
The best way to keep up to date with Fruit Battlegrounds codes is right here. We check daily for new codes and update this list above. So, bookmark this page and check back whenever you are planning on jumping in for a game.
If you want to jump ahead of the queue, you want to keep an eye on the developers behind Fruit Battlegrounds and their social accounts:
For more Roblox codes, check out: