Use these Titan Warfare codes to get free keys and cash! (Updated: February 2023)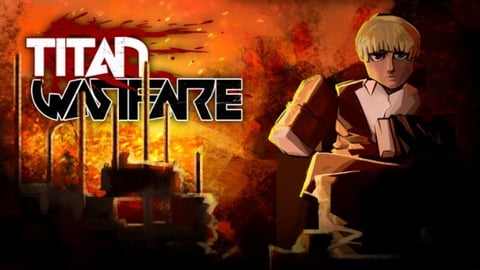 Titan Warfare is one of the many Roblox games inspired by the Attack of the Titans anime/manga.
Players take on the role of a titan, needing to upgrade their weapons and stats to take on opponents in either PvP or PvE combat.
Usually, you will need to complete challenges to earn the keys and cash needed to unlock better weapons, but there is another, quicker way of doing so, and that is by using Titan Warfare codes.
Below, we explain how you can redeem Titan Warfare codes, as well as list all the currently working codes for the game.
How To Use Titan Warfare Codes
Redeeming Titan Warfare codes is easy, as it can be done from within the game.
To do so, follow these instructions:
Launch Titan Warfare from the Roblox app.
Choose a game mode.
Enter the shop using the shop icon (it looks like a market stall). You can enter the shop before you spawn into the live game or while in the live session itself.
The shop will open in a new window in the middle of your screen. On the bottom left-hand side of this window will be a textbox.
Put your code into the textbox to redeem it.
Take note some codes are time-limited, so if you discover a new one, use it as soon as possible.
With that out the way, let's look at the working Titan Warfare codes.
Titan Warfare - Active Codes (February 2023)
Titan Warfare codes can get you free gems and other rewards. Here are the currently active codes as of February 1, 2023.

POTATO_LOVER – free rewards
AWESOME_WARFARE – free rewards
HANG3 – free rewards
ILOVETITANWARFARE – free rewards
Expired Titan Warfare
Here are all the expired Titan Warfare codes.
CALCTUTOR
YEL3NA
K3NNY
ANN1E
MOB1LE_PVP
300K_LIKES
SURV1VAL
SEASON_3!!
SEASON_1
CASH_MONEY123
50KLIKESTHANKYOU
XBOXGAMING
45KLIKESYAY
MAGATH123
Where To Get More Titan Warfare Codes
The best way to keep up to date with all the Titan Warfare codes is right here. We check for new codes daily, updating this page when they are released. So, bookmark this page and check back whenever you jump into a game.
If you want to jump to the head of the queue, you can keep tabs on the Titan Warfare social channels, where they are usually released:

For more Roblox codes, check out: