One of Brawl Stars' newest Brawlers was announced alongside her sister, Janet, in April's Brawl Talk. Here's everything we know about her including her forms, stats, gadgets, super, and more!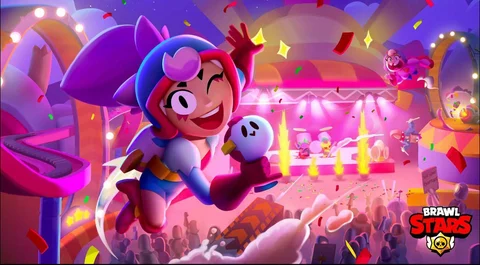 Bonnie is an Epic rarity, hybrid Brawler in Brawl Stars who stands out with her incredibly high health and long-range weapon. She has two main forms that can drastically increase (and decrease) her overall damage, reload speed, range, and movement speed.
Her in-game description gives us a general idea of what she's all about.
Bonnie and her inanimate cannon "Clyde" are usually up to no good. Who would have thought that this cute little girl would have caused so much mayhem?
Mayhem? What's Supercell talking about? Well, we'll let know what they mean by taking a deep dive into this new Brawler. Let's go!
Bonnie Forms - Cannon And Regular Form
As we mentioned earlier, Bonnie has two main forms (similar to the Legendary Brawler, Meg). The forms are called the Cannon form and Bonnie form. Let's take a look at them, shall we?
Cannon Form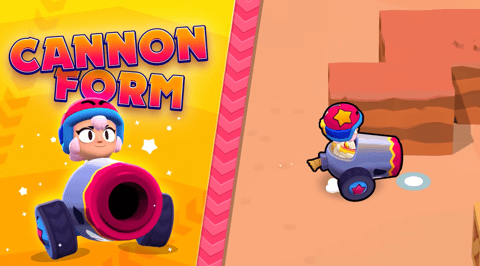 In her Cannon form, Bonnie's attacks fire a long-range tooth from Clyde that deals a relatively average amount of damage. This is called the "Loose Tooth" attack.
As you can expect with a Cannon, there is only a single 'bullet' shot with a single ammo slot to follow. This is a similar mechanic to Bea's Bee and Carl's Pickaxe attack.
Bonnie Form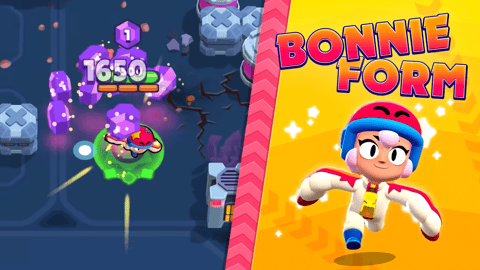 In the regular Bonnie form, the "Bomber Jacket" attack sees Bonnie firing three shells spread out in front of her. These shells will explode upon impact.
Unfortunately, this attack won't charge up Bonnie's Super.

Bonnie Super - Star Launcher
Speaking of Supers, let's talk about Bonnie's: the Star Launcher. Simply described as:
Clyde launches Bonnie into the air. She can cross obstacles and deals damage to nearby enemies on landing.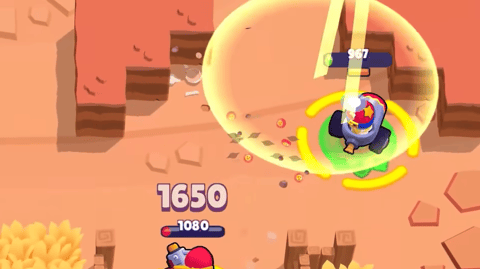 Bonnie is basically blasted into the air - avoid any and all obstacles in her way. When she lands, enemies within a 2.33-tile radius are dealt damage. Additionally, upon landing, she changes into her alternate Bonnie form.
If Bonnie is in her regular form, she will automatically call Clyde and take control of him once the Super is activated.
Bonnie Gadgets: Sugar Rush And Crash Test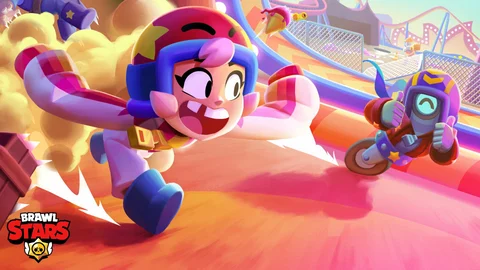 Like all Brawlers, Bonnie has two Gadgets: Sugar Rush and Crash Test. For Sugar Rush, Bonnie's movement and reload speeds (in Cannon form) are increased by 30% for 5 seconds.
Crash Test will dash Bonnie forward and will knock back and deal 300 damage to all enemies in her path.
Bonnie Star Power: Black Powder And Wisdom Tooth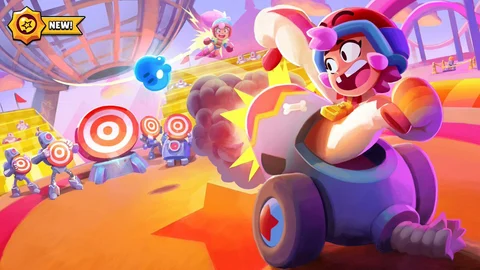 Bonnie has two Star Powers: Black Powder and Wisdom Tooth. Black Power will increase the range of Bonnie's Star launcher by 36%
Bonnie's second Star Power, Wisdom Tooth, allows Bonnie's cannon form attacks to split into four smaller projectiles in a cross pattern that deals 25% of her attack to enemies.
Brawler Stats - Health And Damage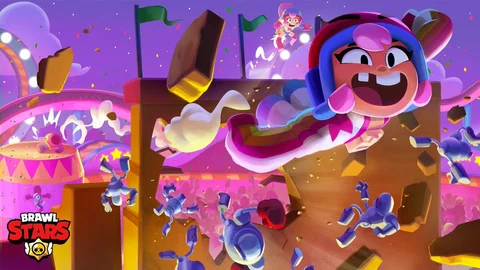 Now that we have the Brawler abilities out of the way, let's take a look at some of the nitty-gritty stats. Bonnie can be upgraded to a maximum level of 11.

Here are all of Bonnie's stats:
| | | | |
| --- | --- | --- | --- |
| Level | Health | Damage (Bonnie form) | Damage (Cannon form) |
| 1 | 4,800 | 580 | 1,000 |
| 2 | 5,040 | 609 | 1,050 |
| 3 | 5,280 | 638 | 1,100 |
| 4 | 5,520 | 667 | 1,150 |
| 5 | 5,760 | 696 | 1,200 |
| 6 | 6,000 | 725 | 1,250 |
| 7 | 6,240 | 754 | 1,300 |
| 8 | 6,480 | 783 | 1,350 |
| 9 | 6,720 | 812 | 1,400 |
| 10 | 6,960 | 841 | 1,450 |
| 11 | 7,200 | 870 | 1,500 |
How To Get Bonnie In Brawl Stars?
Bonnie can be unlocked by finding her in Brawl Crates, Large Crates, and Mega Crates. Beware that it is extremely difficult to get her for free in boxes but not impossible, so don't give up.

Besides this, you can also get Bonnie through offers in the store.
If you're still not convinced about getting Bonnie, Supercell released a short video highlighting all of Bonnie's cool abilities. Check it out!
For more Brawl Stars news and guides, check out: