QW Stephanie are the winners of the Clash of Clans World Championship 2022!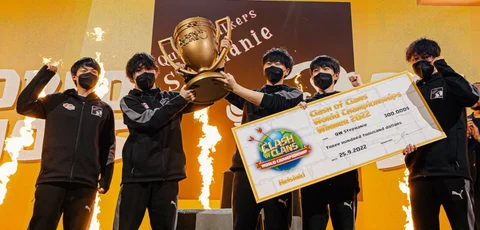 After fourteen incredible, action-packed rounds of matches, we finally know the winner of the Clash of Clans World Championship 2022: QW Stephanie!
The Japanese outfit triumphed over their North American counterparts, Tribe Gaming, in a nail-biting affair that actually saw both teams end level on 13 stars each after their five attacks. However, QW Stephanie was carried over the finish line by their overall damage percentage. Tribe Gaming had 96% while QW Stephanie had 97.4%.
Catch the deciding attack from Yuta14 against Tribe's Riqirez that won QW Stephanie the Grand Final:
QW Stephanie Are Clash Of Clans World Champions For 2022
It was a rollercoaster journey for QW Stephanie to reach the grand finals. They easily defeated G・S Esports and Repotted Gaming in the upper bracket rounds.
However, their winning streak ended when they lost against Tribe Gaming in the upper bracket finals. But that loss didn't demotivate them. They picked themselves up and swiftly defeated M.S Esports in the lower bracket finals to secure their place against Tribe Gaming in the grand finals. We already know how that match ended.
FINALLY!!!!!
WE ARE THE WORLD CHAMPION
Thank you to all our supporters!!!!
I love COC

16/16 perfect

Ying Yuan arigatougozaimashita!!!
Xi shiiiiiiiiii pic.twitter.com/mrA5j3Rknh

— KlausJP (@Klaus_coc) September 25, 2022
This has been a long time coming for the Japanese team. QW Stephanie almost clinched the world championship title in 2020 and 2021, but they had to settle for consecutive second-place finishes. To win this was a massive relief for the team who had remained relatively unchanged over the past three years. Their reward is the coveted world champion title and a cash prize of USD $300,000.
With the champions finally decided, Supercell's huge annual Clash of Clans esports tournament for 2022 comes to an end. We can't wait to see how next year's iteration will shape up!
Relive all the action of the Clash of Clans World Championship Finals 2022 by checking out what happened in the days before: