Mohamed Light has been crowned the world champion after winning the grand final in the Clash Royale League World Finals 2022!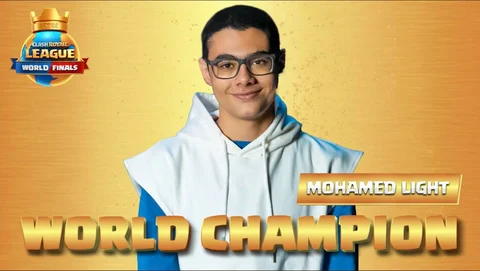 After a series of grueling matches between sixteen of the best players from around the world, we finally know the winner of the Clash Royale League 2022: Mohamed Light! The Egyptian player cruised his way to victory in the final match of the tournament despite an incredible display from SK Morten. The grand final ended with a score of 2-0.
Mohamed Light wins a cash prize of USD $250,000 and the coveted title of Clash Royale World Champion for 2022.
Watch the nail-biting, winning game of the Grand Final below:
Mohamed Light Crowned As Clash Royale World Champion 2022
It was a hard-fought victory for the veteran Clash Royale professional player. He was knocked down to the lower bracket after an opening loss to Japan's very own, KK.
But from there, he kept his head down and took on every player he faced in the proceeding lower bracket rounds. Mohamed Light went on to eliminate PANDORA, Sweep, CMG Vitor75, airsurfer, and even last year's world champion, Mugi. After this, he eliminated Brazil's Samuel Bassotto in the lower bracket finals to eventually face SK Morten in the grand final.
THE BEST OF THE BEST! @MohamedLightCr1 IS YOUR 2022 @CLASHROYALE LEAGUE WORLD CHAMPION!#CRL22 | #CLASHFEST pic.twitter.com/9Ta4NGuBDq

— Clash Royale Esports (@EsportsRoyaleEN) September 25, 2022
With this massive victory, Mohamed Light has finally been crowned the Clash Royale World Champion. This comes after his hugely upsetting second-place finish in last year's Clash Royale League.
We know that he'll be celebrating his incredible victory for days to come. This year's iteration of Supercell's annual esports event is done and dusted, and we are no doubt looking forward to next year's tournament.
Relive all the action from the Clash Royale League World Finals by checking out our daily recaps: