Halloween coins? Halloween candies? What does it all mean? Find out in our guide Call of Duty: Mobile's Haunted Voyage event.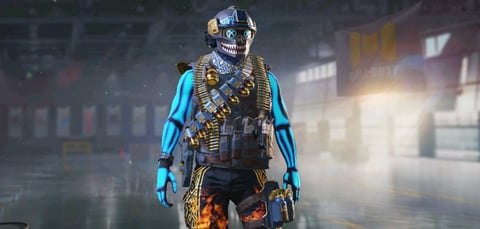 The Haunted Voyage event has begun in Call of Duty: Mobile, giving players the chance to unlock a series of spooky cosmetics that tie in nicely with Season 9 and the return of Zombies Classic.
This event is all about collecting Halloween coins, which can then be used to draw Halloween candies, collect enough candies, and you can begin unlocking the various rewards on offer.
Those rewards include 300 credits, the SMRS - Sapphire Skulls weapon blueprint, and the Battle Hardened - Neon Fire operator skin.

Before that, you will need to collect those all-important Halloween coins, and if you want to learn how to do so as quickly as possible, the guide below will show you how.
Haunted Voyage - Start And End Date
Haunted Voyage started on October 21 and will be running until November 3.
Any leftover Halloween coins or candies will be useless after this point, so make sure you make the most of the event while it is here.
How To Get Halloween Coins In COD: Mobile
Halloween coins are earned by playing any match within COD: Mobile, including standard MP game modes, battle royale, and Zombies Classic.
Depending on your performance in the game, you will be awarded a certain amount of Halloween coins.
You can also earn more coins by completing daily and weekly challenges; these challenges offer a bumper amount of coins.
Daily challenges are the same each day and refresh. These are easy enough to complete. There are also three 'Challenge' missions, which in total offer 450 Halloween coins.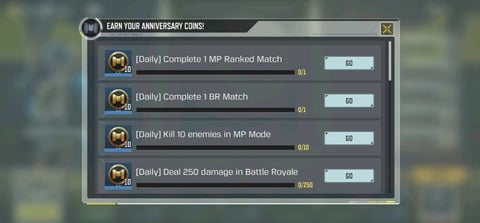 Once you have the coins, you can use them to draw Halloween candies from within the Haunted Voyage event tab.
Halloween candies will automatically be exchanged for event points, which can then be redeemed for the rewards themselves.
You need 36,000 points to claim all the items, and this will mean completing nearly all your daily, weekly, and challenge missions.
Haunted Voyage - Rewards
There are eight rewards available in the Haunted Voyage reward track, including weapon blueprints and operator skins.
Here are the rewards, along with the points needed to unlock them. Rewards are unlocked in order.
2000 points: Flashbang grenade - Sapphire Skulls
4000 points: 100 credits
6000 points: Sticky grenade - Sapphire Skulls
8000 points: 100 credits
10000 points: Parachute - Sapphire Skulls
12000 points: SMRS - Sapphire Skulls
14000 points: 100 credits
36000 points: Battle Hardened - Neon Fire
There is also a global leaderboard kept throughout the event, with rewards given depending on where you finish. The leaderboard is based on the number of points accrued across the event.
For more COD: Mobile news and guides, check out: