Here's a complete overview of all the skins and cosmetics that arrived as part of the Fortnite and Destiny 2 crossover.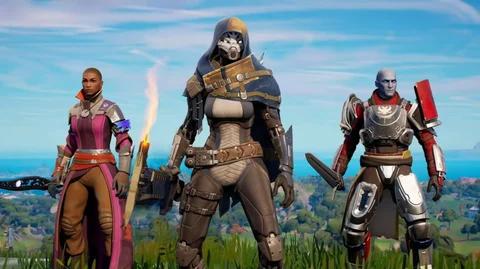 Fortnite recently had a stellar crossover event with Destiny 2. This intergalactic collaboration was just what we needed to spruce up the game with brand-new cosmetics.
Naturally, as Fortnite has always been with new skins, the game welcomed three characters from Destiny 2 and their iconic equipment.
So without further ado, we'll give you all the details about the Fortnite and Destiny 2 crossover.
Fortnite and Destiny 2 Crossover – All Skins And Cosmetics
Three Destiny 2 skins were added to Fortnite: Commander Zavala, Ikora Rey, and Exo Stranger.
Commander Zavala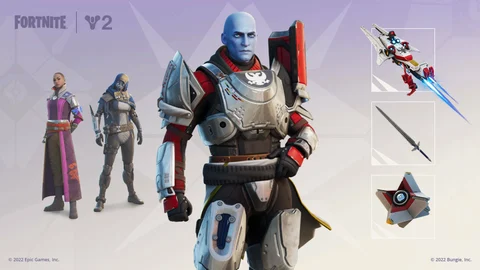 Commander Zavala arrived in Fortnite with the following cosmetics:
Targe Back Bling: The Ghost of Commander Zavala. (Bundled with the Commander Zavala Outfit.)
Crown-Splitter Pickaxe: "Our enemies believe themselves to be gods and kings. We must prove them wrong."
Sparrow Glider: With a Zavala Shader Style, suitable for Commander Zavala.
Ikora Rey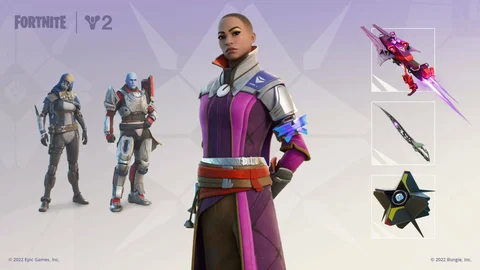 Ikora Rey brought in fresh new equipment for her battles in Fortnite:
Ophiuchus Back Bling: The Ghost of Ikora Rey. (Came with the Ikora Rey Outfit.)
Black Talon Pickaxe: "His existence made the Reef peaceful. His demise has summoned a sword."
Sparrow Glider: Ikora Shader Style that matches Ikora Rey's aesthetic.
Exo Stranger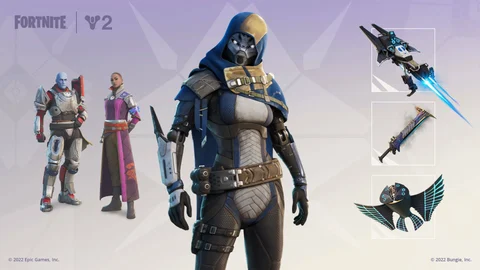 The Exo Stranger landed in Fortnite with this special equipment:
Pouka Back Bling: The companion of the Exo Stranger. (Packaged with the Exo Stranger Outfit.)
The Lament Pickaxe: "The Banshee's anguished shrieks were the final sound the Vex registered."
Sparrow Glider: Has an Exo Stranger Shader Style that complements the Exo Stranger.
For more Fortnite guides, check out: