The developers behind viral hit Omega Strikers already have a working version on mobile and have been "dunking" on unsuspecting PC players.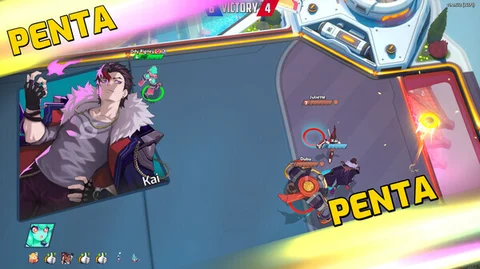 Omega Strikers, a game that launched on Steam back in September and which blends scooter and hero elements to create what the developers called a 'knockout striker,' is coming to mobile.
Omega Strikers' eventual arrival on mobile isn'tnews, as it was confirmed when the game launched on PC on September 17, with the developers touting that the game would also offer players cross-platform functionality.
However, last night (Sept 6), a member of Odyssey Interactive, the development studio behind the game, revealed that a working version of the title was already available on mobile, and what's more, the developers have been secretly "dunking" on unsuspecting PC players in the ranked queue.

The news came courtesy of a Twitter post by Odyssey Interactive's Ryan K. Rigney and even came with a video of said "dunking," which also showcased for the first time a mobile-friendly control scheme.
"This game would be really good on mobile"

Yeah, we know, we're literally in your ranked PC games RIGHT NOW dunking on you from our phones

(Dev still in progress, see complete lack of background art lol) pic.twitter.com/pzxiFa1Wv6

— Ryan K. Rigney (@RKRigney) October 6, 2022
Omega Strikers Will Have A Higher Skill Ceiling On Mobile, Claims Dev
Rigney cautioned that development of the mobile port was "still in progress" but would go on to extol the game's control scheme, claiming that mobile players would not only match but could surpass PC players at the highest levels.
In a reply to one player who imagined a scenario where he turned up to the Omega Strikers world championship with an expensive computer only to get beaten by middle schoolers who had been "scrimming during PE class," Rigney did nothing to dispel the notion, stating that those who play claw on mobile will have the "highest potential skill ceiling."
He puts that down to the fact that on mobile every ability has a separate button with full 360-degree aiming.
It's coming. In theory claw hand freaks on mobile have highest potential skill ceiling since every ability is a separate button with full 360 degree aiming

Can't wait to see mobile gamers rise up

— Ryan K. Rigney (@RKRigney) October 6, 2022
Rigney also confirmed the game would offer cross-progression at launch, meaning you could pick up where you left off whether you were choosing to play on PC or mobile.
Omega Strikers doesn't currently have a release date on mobile, but with the developers already trading blows with PC players - in the ranked queue, no less - a release can't be far off now.