Project Winter is a popular social deception game on PC, and now it is coming to mobile. Here is everything you need to know.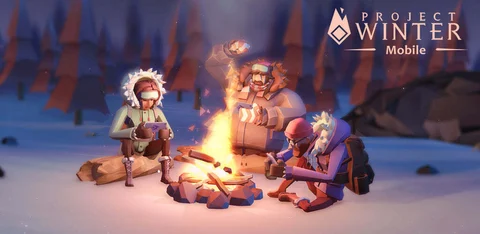 First released back in February 2019, Project Winter brought a polished take to the social deception game, and now mobile gamers are going to get a shot at surviving a cold arctic winter.
Originally developed by Other Ocean Interactive with the mobile port now overseen by Boltrend Games, this multiplayer game sees eight players dropped in the freezing arctic wilderness with one mission: to survive.
Players have to scavenge for tools and resources like food and fuel and ultimately attempt to escape from this inhospitable land. But surviving the elements is not the only hurdle, as amongst these eight survivors are traitors, players intent on disrupting your progress and, if possible, taking you out completely.
Beneath all the survival and tricky is a game that is a lot of fun, and with the release of Project Winter Mobile, the game is now available on Android and iOS devices.
How To Pre-Register / Download Project Winter Mobile
Pre-registration for Project Winter Mobile has been open for the past week, and from August 30, players have been able to download the game ahead of its launch.
To do so, head to the Google Play Store or Apple App Store, and pre-register. You will also get a notification when you can download the game.
The game, once installed, is approximately 540 MB.

Project Winter Mobile - Release Date
Even though you can download and launch Project Winter Mobile as of August 30, you can not, however, play the game.
When you launch the game, you will be met with a message stating that "the server is under maintenance..." followed by a countdown to the launch time.

If the server schedule holds up, the Project Winter Mobile servers should be live on Thursday, August 31 at 5 pm (GMT +8).
NOTICE

Time: August 30th, 10am (GMT +8)

During this maintenance the data of Thailand users will be migrated to the official service of the future international version.

This maintenance will be last for one day, until August 31st 5pm (GMT +8). pic.twitter.com/nWdRgUyCRc

— Project Winter Mobile (@projectwinter_m) August 29, 2022
Project Winter Mobile - System Requirements
Project Winter Mobile is available on both Android and iOS devices. Here are the minimum system requirements for both platforms:
Android
Required storage: 1 GB or above
Required ram: 2 GB or above (650 MB available RAM)
Version: Android 6+
iOS
iPhone
Requires iOS 10.0 or later
iPad
Requires iPad OS 10.0 or later
iPod touch
Requires iOS 10.0 or later
Mac
Requires macOS 11.0 or later and a Mac with an Apple M1 chip or later
For more mobile gaming news and guides, check out: