Recently leaked Valorant Mobile footage shows a number of agents and the Ascent map.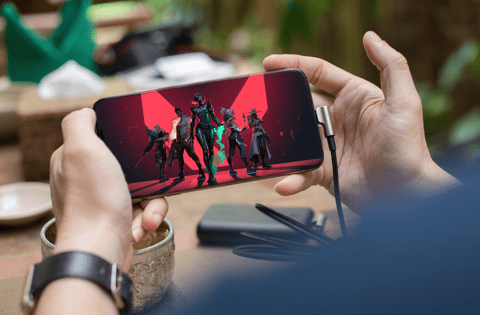 Riot Games has been quiet on the progress of Valorant Mobile, much to the dismay of fans who are desperate to know when they will be able to play the tactical shooter on the move.
Thankfully, it looks like the time when we will get to know more is nearing, as a new batch of leaked footage has emerged from China.
Two new videos have appeared online, one over six minutes long, both showing a match being played out on Ascent.
Valorant Mobile Gameplay Footage Emerges
In one video, we are shown a player queuing for a match, the map chosen being Ascent, and then taken to the character select screen. Interestingly, it appears that only seven agents are currently available; Jett, Pheonix, Reyna, Skye, Sova, Breach, and Killjoy, with any controllers notable by their absence.
Picking Breach, we then get over five minutes of gameplay footage.
The game looks like a 1:1 remake of the mainline title. The agents have the same abilities, the game mode is 5v5 search and destroy, and the rounds are 1 minute and 45 seconds long. It's not clear if there is any aim assist present - though, it doesn't look like it.
While we can't confirm the veracity of the footage or when it was recorded, it is likely that those chosen to beta test the game in China have recently been given access to the latest build, and that's why we are seeing this new footage.
The person who recorded the footage has covered any account identifiers. If they didn't, they would risk being kicked out of the beta test.

Another leaked video shows gameplay from the POV of Jett.
VALORANT Mobile Jett gameplay video. 1.1 pic.twitter.com/ikv9zDN8xj

— Valorant Mobile (@PlayValorantMB) September 9, 2022
Again, the map is Ascent, the same map we saw in leaked footage several months ago and possibly the only map currently in the game at this moment in time.
None of this helps answer the question of when we will all get to play the game, though if only 7 of the 19 agents we have in the mainline game are available in the mobile port, it may be a while yet.
Though if Valorant Mobile isn't near release, other titles are, including rival tactical shooter Rainbow Six Mobile, which is set to announce a new, more widely available beta test this Saturday (September 10) at the Ubisoft Forward showcase.
For more mobile gaming news and guides, check out: