Wild Rift will be getting fewer major updates throughout the year... but not less content.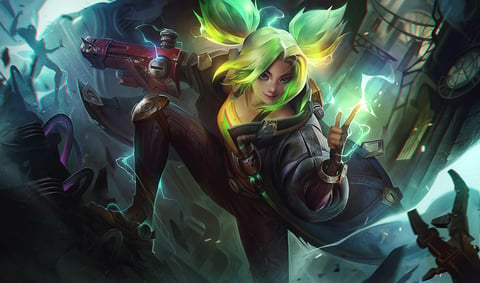 Few could complain about the amount of content that has come to Wild Rift since its global launch back in 2020, but that could all be set to change with the developers announcing that from now on there will be only five major updates a year - instead of the six seen in past years.
The developers claim that each patch will now include "more content," with the extra time between patches used to "take bigger swings, at bigger problems, and capture bigger opportunities."
"With this extra time that we get back, what it's going to allow the dev team to do is spend more time with each of our patches," explained David 'PapaSmoothie' Xu in the most recent dev update.
Xu asks us to cast our minds back to the introduction of the Elemental Rift, a feature that arrived in July of last year but only after an extended period of public playtesting.

"Our goal is that with the extra time we get, we can land these bigger grand moments - in a shorter time," said Xu.
.@PapaSmoothie is here to chat about some of the upcoming updates for Wild Rift in 2023!

Patch Schedule
WR Game Dev Crash Course
2023 Champion & Gameplay Changes
Marksmen & Assassin Updates
Skin Tease

https://t.co/zeZUjEHI13 pic.twitter.com/3k2U6jkGXs

— League of Legends: Wild Rift (@wildrift) March 29, 2023
Xu also promised that 2023 will see the development team "doubling down" on what makes Wild Rift unique, with never-before-seen skin lines and game modes.
Xu also confirms that Wild Rift will continue to get a new champion every month, and more "lore-centric moments."
Previously discussed changes to the Marksmen and Assassin roles are also still to be expected, and there a new major gameplay addition is on the way - with Xu teasing that things are set to get "a little chillier."

When can we expect all this? Well... patch 4.1 arrived earlier this month - the second major update of the year - with nine months left of the year, and three major updates still to arrive, we should be seeing patch 4.2 sometime in June, with 4.3 landing in September, and 4.4 in December.
Hopefully, the developers make good on their promise that this doesn't result in less content for players. Though if that is the case, Honor of Kings will soon be waiting in the wings...
For more Wild Rift news and guides, check out: