Use these Roblox Anime Warriors codes to get free crystals, gems, yen boosts, and random materials, making leveling your character easier! (Updated: June 2023)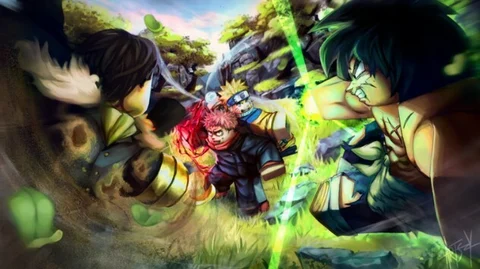 Roblox Anime Warriors is one of the best anime-themed games available on the platform, allowing you to team up with friends to take on powerful bosses.
To take on the biggest foes, you will need to get the best anime characters and level them up, but with the game's gacha mechanics, there is more than a bit of luck involved in getting the best anime warriors.
Thankfully, there are ways to speed up this process: Anime Warrior codes can reward you with free resources like crystals, gems, yen boosts, and random materials, which can be used to get free rolls and level up your character faster.

How To Use Anime Warrior Codes
Using Anime Warriors codes is easy, as it can be done from within the game. However, you will need to have a Twitter account.
To do so, follow these instructions:
Launch Anime Warrior from the Roblox app.
Once the game is launched and you have your first character, click on the Twitter icon named 'Codes', found on the right-hand side of the screen.
You will now need to follow the official Anime Warriors Twitter account. Once you have done so, enter your Twitter ID (including the @) in the input box and hit 'Verify'.
Once verified, enter one of the active Anime Warrior codes below and hit 'Redeem'.
If the code is successful, you will get a message at the top of the screen saying, 'Code Use Successful'.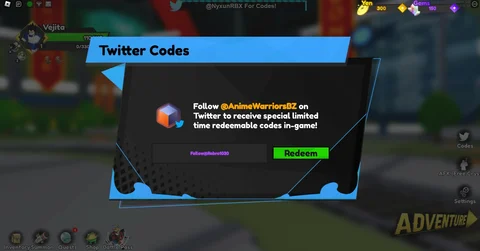 Some codes are time-limited, so if you discover a new one, use it as soon as possible.
With that out the way, let's look at the working codes.
Anime Warrior Codes - Active Codes (June 2023)
Here are the working Anime Warrior codes as of May 31, 2023.

Expired Anime Warrior Codes
Here are all the expired Anime Fighting Simulator codes.
UPDATE2 - redeem for 250 gems and quest beater item
BOOM350k - redeem for 350 gems
CRAFTINGSHERE - redeem for 150 gems
ULTIMATES400KMATS - redeem for 40 random materials
ULTIMATES400KGEMS - redeem for 400 gems
TWITTERWENTCRAZY150K - redeem for 250 crystals
2022RELEASE - redeem for 150 crystals
RELEASE - redeem code for 150 crystals
125KTHUMBSUP - redeem for 200 crystals
UPDATE1MH - redeem for 300 crystals
THANKS4100KLIKES - redeem for 150 crystals
WOAHFiftyKLikes - redeem for 150 crystals
Twenty5kLikes - redeem for 150 crystals
5kL1kes - redeem for 30 minutes double yen boost
RELEASE - redeem for 150 crystals
Incredible10k - redeem for a free boost
SeventyFiveK - redeem for 100 crystals
Where To Get More Anime Warrior Codes
There are several ways to find new Anime Warriors codes. The best way is by following the publisher and developers on Twitter, with the following accounts regularly posting new codes:
Also worth checking out is the official BlockZone Discord channel. Of course, you can keep checking back on this page, as we regularly update you with all the latest Anime Fighting Simulator codes.
For more Roblox codes, check out: