You can get free Crystals, Jellies, items, and more in Cookie Run: Kingdom with the latest codes in June 2023.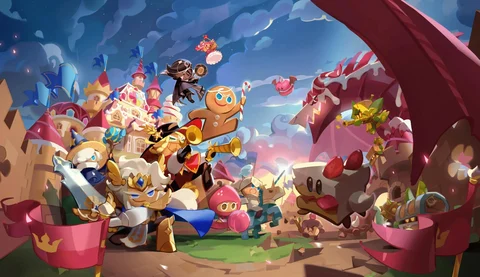 Cookie Run: Kingdom developers often release codes that you can use to claim free rewards such as Crystals, Jellies, EXP, Cubes, items, and more. These codes are usually handed out during special events. But, more often than not, the devs will release codes without any prior warning.
These codes usually offer huge rewards, unlike codes for other mobile games. So grab them when you see them! They can be very helpful in boosting your in-game inventory and aiding you in your path to building your kingdom.
Here are all the Cookie Run: Kingdom codes available for June 2023 and how you can claim them.
How To Use Cookie Run: Kingdom Codes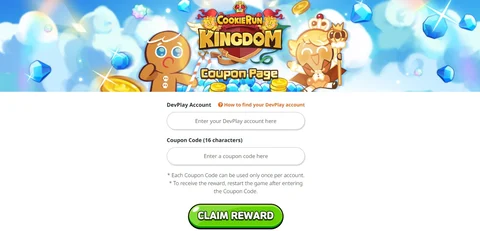 Using codes in Cookie Run: Kingdom is easy. Follow these steps, and you'll be sorted in no time:
Launch the Cookie Run: Kingdom app
Select the icon at the top right of the screen with the three horizontal lines.
Select 'Settings'.
Press on 'Info', and look under 'User Info' to find your 'Player ID'.
Load the Cookie Run: Kingdom code site.
Enter your DevPlay ID details and the code into their respective boxes.
Select 'Claim Reward' to redeem your rewards.
Your rewards will then be sent to your account. You can check by re-launching the Cookie Run: Kingdom app.
Cookie Run: Kingdom Codes - Active Codes (June 2023)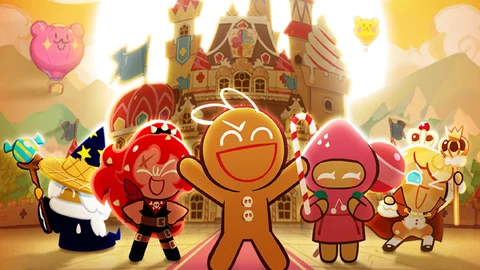 There are four active Cookie Run: Kingdom codes you can use in June 2023:

BRAVESPRINGGIFT – 300 Rainbow Cubes
CHERRYSPRINGGIFT – 20 Time Jumpers
HERBSPRINGGIFT – 100 EXP Star Jelly Level 5 and 100 Stamina Jellies
BLOSSOMINGGIFT – 1,000 Crystals
Expired Cookie Run: Kingdom Codes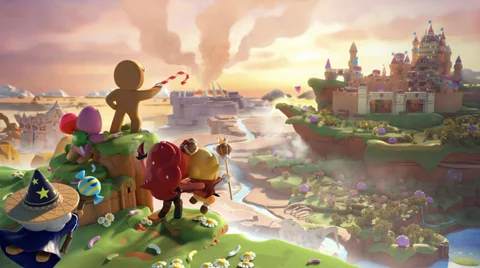 Here's a list of the expired codes in Cooke Run: Kingdom:
2NDBIRTHDAYPARTY – 3,000 crystals
CRKALWAYSLOVEYOU – 1,500 Rainbow Cubes, 3,000 Crystals, 1,000 Radiant Shards, 250,000 Coins, 30 Time Jumpers, and other rewards
CRK2NDBIRTHDAYD1 – 100 EXP star jellies Level 6
CRK2NDBIRTHDAYD2 – 3 Aurora items
CRK2NDBIRTHDAYD3 – 100 Topping pieces
CRK2NDBIRTHDAYD4 – 500 Rainbow Cubes
CRK2NDBIRTHDAYD5 – 30 Time Jumpers
CRK2NDBIRTHDAYD6 – 10 Treasure Tickets
CRK2NDBIRTHDAYD7 – 3 Special Cookie Cutters
POCKETGAMERAWARD – 3,000 Crystals and 1,000 Rainbow Cubes
THANX200MPLAYERS – 2,000 Crystals and 2,000 Rainbow Cube
CRKINGDOMWITHBTS – 3,000 Crystals and 1,000 Army Bombs
1015CKCOOKIELIVE – 2,500 Army Bombs
NEWUPDATEISAHEAD – 1,500 rainbow cubes & 3,000 crystals
FOLLOWINGINLATAM – 2,500 Crystals
CRKWELCOMEDISNEY - 3,000 Crystals and 400 Radiant Shards
0728CKCOOKIELIVE - 1,500 Crystals, 300 Rainbow Cubes, 3 Treasure Tickets, 3x 30-min Speed-up
FOLLOWUSINEUROPE - 2,500 Crystals
CRKBEHINDNFUTURE - 130x EXP Star Jellies lvl 6, 120x Topping Pieces, 8x Aurora Bricks, 8x Aurora Pillars, 8x Aurora Compass, 250k Coins, 30x Time Jumpers, 10x Magic Cookie Cutters, 1,500 Rainbow Cubes, 5,000 Crystals, 1,200 Radiant Shards
TIKTOK1MFOLLOWER - 1,000 Crystals
0224CRKDARKCACAO - 3,000 Crystals
COOKIELIVECOUPON - 3 Treasure Tickets, 3x 30-min Speed-up, 2 Magic Cookie Cutters, 2 Special Cookie Cutters, 30 EXP Star Jellies level 6, 300 Rainbow Cubes, 1,500 Crystals
GOMAGICOVENEVENT - 500 Crystals
CK1STANNIVERSARY - 5,000 Crystals and 3,000 Rainbow Cubes
WEMADECKTOGETHER - 3,000 Crystals
CRK1STBIRTHDAYD1 - 1,000 Crystals
CRK1STBIRTHDAYD2 - Special Cookie Cutters x3
CRK1STBIRTHDAYD3 - EXP Star Jelles level 6 x100
CRK1STBIRTHDAYD4 - 30 Time Jumpers
CRK1STBIRTHDAYD5 - 3 of each Aurora item
CRK1STBIRTHDAYD6 - 3 Magic Cookie Cutters
CRK1STBIRTHDAYD7 - Rainbow Cubes x500
2021KRGAMEAWARDS - 1,000 Rainbow Cubes, 1,000 Cold Crystals & 5,000 Crystals
30MILLIONKINGDOM - 3,000 Rainbow Cubes & 3,000 Crystals
KINGDOMNBLUECLUB - 500 Crystals
REALTOUGHCOOKIES - 500 Crystals
KINGDOMWITHSONIC - 1,000 Crystals
PARFAITSUBSCRIBE - 1,000 Crystals
BESTGAMEAWARDTHX - 3,000 Crystals
COOKIERUNTWITTER - 1,000 Crystals
XYOKSPZLLUJYFKJN - 12,000 EXP
CHIMNPERLKINGDOM - 500 Crystals
TIYSVCUKYDPPHTNP - 50,000 Coins
COOKIECHICKENRUN - 500 Crystals
HAPPY100DAYSGIFT - 1,000 Crystals, Exp Jellies
IELLBHSLKSKZHBGD - 3 Cookie Cutters
POONGDENGKINGDOM - 500 Crystals
KINGDOMIAMSIXTAN - 500 Crystals
KINGDOMBERYLLULU - 500 Crystals
2CHAMCOOKINGDOM2 - 500 Crystals
KINGDOMYUNIKO720 - 500 Crystals
WELCOMETOKINGDOM - 500 Crystals
KINGDOMWELOVEYOU - Crystals and 100 Stamina
COOKIEFOOLSDAYS2 - 401 Crystals
TAMAGIFT500TOYOU - 500 Crystals
SOQCESWVJWEKZDVB - 1,000 Crystals
RUSWKGMLKINGDOM6 - 300 Crystals
JJONDEUKEECOOKIE - 300 Crystals
COOKANGJIKINGDOM - 300 Crystals
DOMINOCOOKINGDOM -500 Crystals
WELCOMETOCRKMATT - 300 Crystals
WELCOMETOCRKJACE - 300 Crystals
OPENSILVERBUTTON - 1,000 Crystals, 20 Tower Keys, and 200 Horns
WELCOMETOCKSANNA - 300 Crystals
KINGDOMOKING5927 - 500 Crystals
KINGDOMSWAMP0130 - 500 Crystals
KINGDOMSUNBA0128 - 500 Crystals
KINGDOMYANGDDING - 500 Crystals
KINGDOMLILKA2021 - 500 Crystals

KINGDOMNAMDOBLUE - 500 Crystals
COOSEBOMEKINGDOM - 300 Crystals
TK2PO5GA87DBJALQ - 500 Crystals
Where To Get More Cookie Run: Kingdom Codes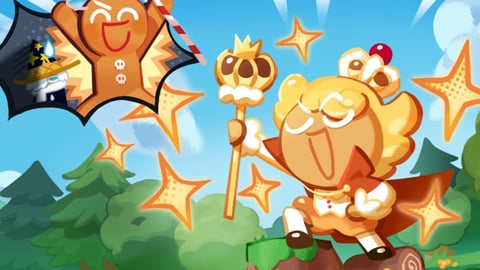 The devs usually release Cookie Run: Kingdom codes on their social media platforms. Here's where you can find these codes:
For more mobile game codes, check out: