All the latest Roblox Pirates Legacy codes, including how to redeem them in-game. (Updated: May 2023)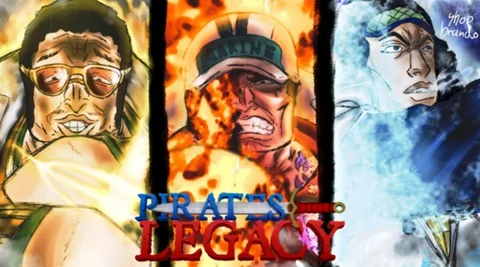 Pirates Legacy codes are a great and easy way to earn Beli, the game's currency. Beli can purchase new gear, better ships, and devil fruits. Pirate Legacy codes can also get you free XP to level your character and give you a one-time stat reset, allowing you to re-level your character.
If you are unaware, Pirates Legacy is based on the One Piece anime and is one of the most popular Roblox games. Players choose between pirates or marines and then head off to complete quests, get new ships, and try and find powerful Devil Fruit powers.
This guide includes a complete list of all active and expired Pirates Legacypromo codes and shows you how to redeem them.
How To Redeem Pirates Legacy Codes
Before we get into the Pirates Legacy codes, we will explain how to redeem them in-game, so if you already know how to do that, skip down to the codes below.
Launch Pirates Legacy from the Roblox.
Click on the 'Menu' button.
Now click on the 'Character' icon (it's the shape of a person).
Besides the Twitter icon, you will find a text input box.
Copy and paste an active Pirates Legacy code.
Press the 'Enter' button, and your code will be redeemed!
Now you know how to enter Pirates Legacy redeem codes, it's time to check out what some of these codes are.
Pirates Legacy Codes - Active Codes (May 2023)
Pirates Legacy codes can get you a stat reset, XP, or Beli. Here are the working Pirates Legacy codes as of May 22, 2023.
PIRATE350 - redeem for 30 minutes of double XP (new)
R3FUND - redeem for a Stat Refund (new)
BETA - redeem for 40,000 cash (new)
Expired Pirates Legacy Codes
These codes no longer work and have expired.
DataLoss - redeem for 2k Beli and 550 XP
NotAStatResetCode - redeem for stat reset (new!)
Havoc - redeem for 200 XP
Doge - redeem for 2k XP
Pirates - redeem for 3k Beli
NewDevs - redeem for 4k Beli
Fruit - redeem for 1k Beli and 300 XP
SHUTDOWN1! - redeem for 6k XP and 20k Beli
Christmas! - redeem for 1k Beli
Kazune - redeem for 12k Beli
King - redeem for 5k Beli
Release! - redeem for 5k Beli
Wise - redeem for 1k Beli
If you are wondering how to get Pirates Legacy codes, then it is easy: keep checking this page! We will continue to update this page with all the latest codes.
Though, if you would like to get them from the source, the best way is by following the Pirates Legacy Twitter and joining the Pirates Legacy Discord server, as these are the ways the developers get the codes out to the community.
For more mobile redeem codes, check out: