A new update is giving Roblox avatars more expressive faces but some are finding them "terrifying."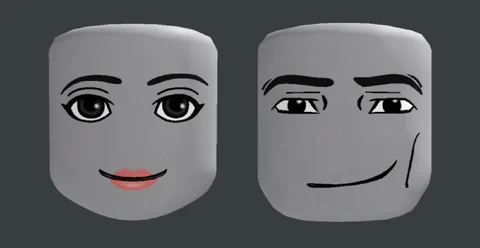 Earlier this month, at the annual Roblox Developer Conference, the developers behind the gaming platform revealed an update was coming to make the in-game avatars more expressive.
The previous avatars were described as "two-dimensional" by Bjorn Book-Larsson, vice president of product and avatars at Roblox; with this new update, which uses technology similar to that seen with Apple iPhone's Bitmoji, the avatars mimic the faces of their users and can display a much wider range of emotions.
The first sign of this update reaching Roblox users happened yesterday, with some users able to select three new dynamic avatars.
For some, it was heralded as a step closer to true metaverse-type experiences where players can express themselves to the fullest.
For others, these new dynamic avatars did play with their emotions... by giving them the creeps.
Roblox's New Dynamic Avatars Split The Community
Coming under particular fire was the avatar named 'Chiseled Jaw Man'. These new avatars change expression depending on what emote is used and periodically blink.
When it came to Chiseled Jaw Man, the effect is rather creepy, one player going so far as to brand it "terrifying."

ROBLOX THIS IS TERRIFYING... pic.twitter.com/gAIdzh3nd5

— Dzired (@Dziredlol) September 27, 2022
Another could only suggest one thing for it: "OMG KILL IT".
OMG KILL IT

— DeeJay (@zonoxic) September 27, 2022
IT FUCKING BLINKED pic.twitter.com/vkedDxRS6Y

— Mickey boi (@Mickey_craved) September 27, 2022
It must be said not everyone hates the new dynamic avatars. One player said they looked "cool," while another suggested players should "stop criticizing any update Roblox adds to their platform."
ikd why the hate, it looks fine specially the woman face, looks much better, it gives much more emotion and i think the blinking looks fine

— Przelish (@PrzelAlt) September 28, 2022
As it currently stands, not everyone has the dynamic avatars available to them, and those that do can still pick the original, less emotive ones.
This is just the first step for these dynamic avatars, with the ability to capture the user's emotion and display it through the avatar, along with a voice chat function that will see the avatar's mouth open and close as if they were talking, expected to be added in time.
When they were announced, Book-Larrson conceded the developers will have to "expect the unexpected," when it comes to how these avatars would come to be used.
Little did he know that phrase would be the perfect tagline for the Roblox horror game these avatars are likely to inspire.

For more Roblox news and guides, check out: