The Wild Rift Icons Global Championship is kicking off its group stage and there are Twitch drops enabled. Learn how you can some free in-game cosmetics by linking your account and claiming the rewards.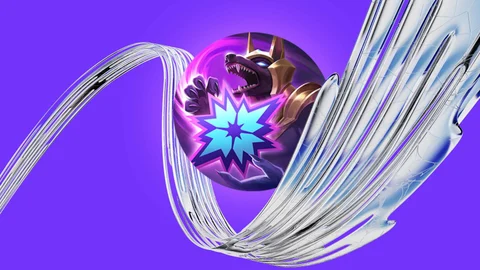 Wild Rift esports has truly arrived with the first Icons Global Championship taking place in Singapore. The tournament is Wild Rift's version of Worlds and brings teams from all around the world to battle it out for $2 million in prizes.
Play-ins are now over, and the group stage proper begins tomorrow (June 21) but it is not just the competitors that can get rewards for their participation as Riot Games are releasing a series of in-game cosmetics to mark the occasion - all available through Twitch drops.
If you want to know how to get these exclusive Wild Rift Icons cosmetics, you've come to the right place as we break down how to link your Twitch account and claim your rewards.
If you want to learn more about the tournament, check out our Wild Rift Icons Global Championship explainer.
Top 5 Hottest Female Skins in League of Legends: Wild Rift

View gallery
Wild Rift Icons Twitch Drops
There are four rewards available through the Wild Rift Icons Global Championship Twitch drops, with rewards already given out for the play-ins, with the group stage, knock-outs, and grand finals to follow. The group stage kicks off on Tuesday, June 21.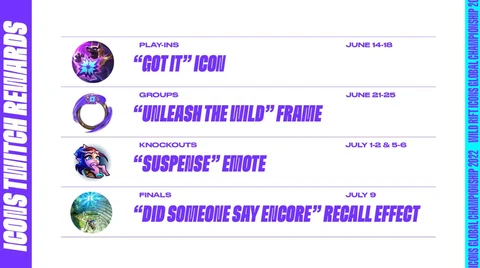 While the rewards aren't the most highly sought after, there is still a nice "Suspense" Emote and "Did Someone Say Encore" Recall effect. Getting them will mean linking your Twitch and Riot Games accounts and then watching the official broadcasts during the chosen period.
If you are unsure how that all works, the following guide will help you get your account linked and show you how to claim rewards.
How To Get Wild Rift Icons Twitch Drops
Getting your Wild Rift Icons Twitch drops is an easy process; all you need to do is link your Riot Games account with your Twitch account. Follow these instructions to get your account linked and start earning rewards:
Log in to your Riot Games account and your Twitch account
On Twitch, click your profile in the top-right.
Select Settings.
Go to Connections.
Find Riot Games and click Connect. Authorize the connection.
Your account is now connected.
You can watch both the official broadcasts and any official watch parties. We have embedded the official Wild Rift Icons broadcast for you below.
Here is a list of watch parties. Rewards won't be immediate but you will receive an in-game mail from your Wild Rift inbox when you have got the award. The developers have stated no minimum time for the rewards, but it may well be you just have to tune in for a couple of moments.