DreamHack San Diego will be the location of two tournaments from the Snapdragon Pro Series in 2023.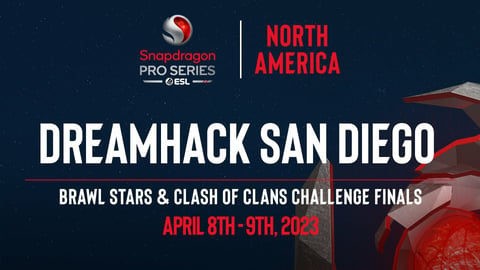 ESL has announced that its multi-genre mobile esports competition, the Snapdragon Pro Series, will host its North American Mobile Challenge tournaments for Brawl Stars and Clash of Clans at DreamHack San Diego.
Held between April 8 - 9, 2023, this will be the inaugural DreamHack event held at the San Diego Convention Center on the sandy shores of California. It will have a total of USD $100,000 in prize money.
We're hosting the Challenge Finals @DreamHack San Diego!

Teams from both Brawl Stars and Clash of Clans will converge at DH San Diego to fight for their slice of the $100k prize pool!

For more information
https://t.co/QvPo1xXhu0#SnapdragonProSeries pic.twitter.com/Xe98KNvYeO

— Snapdragon Pro Series (@ESLMobile) December 1, 2022
The Brawl Stars competition will decide which team qualifies for the Snapdragon Pro Series Mobile Masters tournament. The Clash of Clans competition will crown the North American Mobile Challenge champions.
Kevin Rosenblatt, SVP of Game Ecosystems at ESL, celebrated the announcement and remarked on the event's proximity to Qualcomm - the brains behind the powerful Snapdragon technology:
The Snapdragon Pro Series Mobile Challenge finals are some of the highest-stakes competitions for these players, and we're looking forward to showcasing top-tier mobile gameplay at the inaugural DreamHack San Diego.

Taking place in Qualcomm's backyard, we'll spotlight the industry-leading Snapdragon technology and high-intensity experiences that are powering the proliferation of mobile esports along the path to pro.
This event's announcement comes as the Snapdragon Pro Series continues to expand in season 2 and introduce the "era of everyone" for all gamers. Later this month, they will host a massive multi-title event at DreamHack Valencia between December 9 and 11 that will bring the best regional Wild Rift and Brawl Stars players to Spain.
Besides this news, it was recently announced that Samsung will become the official presenting partner of the Snapdragon Pro Series in 2023.
MobileMatters is a paid partnership with ESL FACEIT Group.
Stay up to date with the latest Snapdragon Pro Series news: