Leaks have suggested that Supercell has been working on a new racing game based on Clash of Clans. The latest Clash of Clans 'documentary' appears to confirm that this game will be called Clash Dash!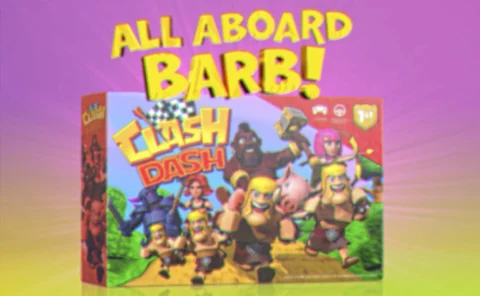 Supercell recently released a documentary titled "CLASH FROM THE PAST: The Untold Story" in celebration of Clash of Clans' ten-year anniversary. The documentary is set in the 80s and centers upon three individuals, who together, created the first ever Clash-inspired game called, well, Clash. Despite its largely fictional world that saw these three people build a massive empire around the Clash games, there was a small part in the documentary that many people have noticed: Clash Dash.
Clash Dash seems to confirm what many leaks and rumors have mentioned about Supercell developing a new racing game. Let's talk about it!
Early Leaks About Clash Dash
Rumors have long persisted about Supercell creating a racing game inspired by Clash of Clans. The first hint was from three years ago when there was a Reddit post asking fellow Redditors about what they were hoping would come to Clash of Clans with the introduction of Town Hall 13. This post was met with a comment from a rather famous individual from Supercell: Clash of Clans Community Manager Darian Vorlick.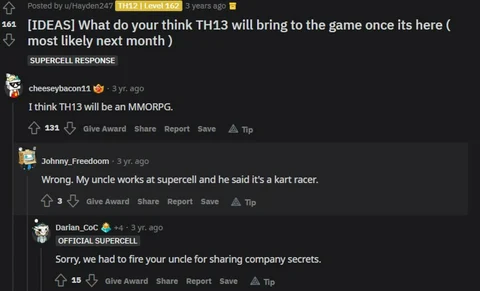 In it, we can see that somebody mentions that their uncle, who works at Supercell, said that a new "kart racer" was in development. This comment was met with a response from Darian who states that their uncle was fired for sharing company secrets.
Though this comment could have been made in jest, the mere response from a big player in the development of Clash of Clans and other Supercell games left people wondering if the kart racer game was really in development.
Besides this three-year-old leak, there was a recent Reddit post from a person who heard that an early development spin-off racing game called Clash Dash was set to be released with the ten-year anniversary of Clash of Clans.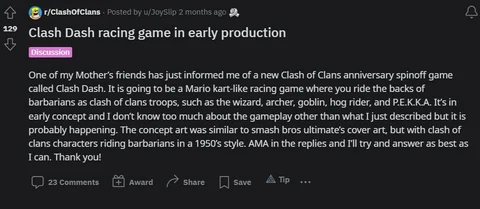 A substantial amount of information was leaked in this post. Clash Dash would definitely be a racing game but takes on a special twist. Instead of karts, players such as the Wizard, Archer, or Goblin would be riding on the backs of Barbarians. The concept art would be similar to that of Nintendo's Smash Bro's Ultimate.
Now, this information may sound too good to be true, but the recent documentary released by Supercell seems to confirm ALL of this.
Clash Of Clans Documentary Appears To Confirm Clash Dash
CLASH FROM THE PAST: The Untold Story is a documentary that Supercell released on the ten-year anniversary of Clash of Clans. As we mentioned before, it focuses on the story of the Clash games and how three people built a massive gaming empire from it. However, there was a section in the documentary that focuses on one particular game: Clash Dash. It starts at the 5 minutes 5 seconds mark that you can start watching from the video below:
As we said, this confirms the leaks we have had in the past. We can clearly see classic Clash of Clans characters riding on the backs of Barbarians. Races appear to last for three laps, and there are about six players per race (similar to Clash Royale). If you've ever played Mario Kart before, Clash Dash's design and layout will oddly remind you of that Nintendo game.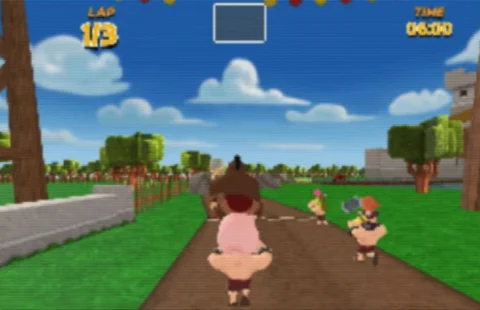 Supercell hasn't released any official information about Clash Dash. However, we know that even if this game is real, we'll probably have to wait sometime before we can play it, as any game will have to go through stages of development, testing, feedback, and more. However, given all these subtle clues and rumors, we believe without a doubt that this game will be a reality soon.
Stay up to date with the latest Clash of Clans news and guides: