Supercell has announced a challenge to say goodbye to Town Hall 14! This version has been around in Clash of Clans for the past two years and we couldn't think of a better way to send it off.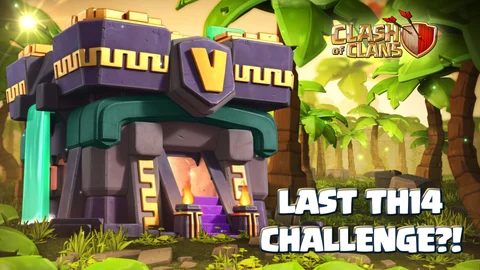 We'll be closing the doors on a historic part of Clash of Clans history: Town Hall 14. Release in April 2021, we've spent the better part of nearly a year and a half with this version of the Town Hall. It saw the heart of the village trade in its freezing Town Hall 13 theme for a brand new jungle theme. We had a great time with this update and enjoyed the fun that the Giga Inferno brought. But, if all the rumors are true, we'll be seeing Town Hall 15 come to Clash of Clans soon.
To send off Town Hall 14, Supercell announced a grueling challenge where you will need to take on a fully upgraded base. Win three stars or score 100% damage to receive great prizes. Here are all the details you need to know about the last Town Hall 14 challenge in Clash of Clans.
The Last Town Hall 14 Challenge In Clash Of Clans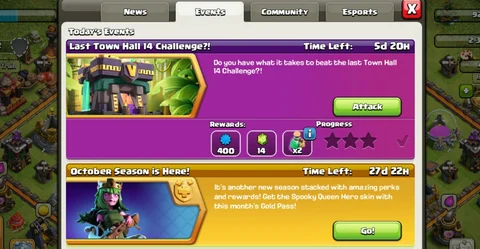 The last Town Hall 14 challenge - literally dubbed 'Last Town Hall 14 Challenge?!' - is of a simple design. As we mentioned earlier, you will need to command an army and win three stars or earn 100% damage against a fully upgraded Town Hall 14 base. In this case, the base is that of Tribe Gaming's Riqirez, who used this village layout during his team's impressive charge in the Clash of Clans World Championship 2022.
Here is the army composition you'll need to complete this challenge with:
Archers (x 3)
Ballons (x 27)
Wizard (x 1)
Baby Dragon (x1)
Yeti (x 1)

Minions (x 11)
Valkyrie (x 1)
Golem (x 1)
Ice Hound (x 1)
Headhunter (x 5)
Battle Blimp
Barbarian King
Archer Queen
Grand Warden
Royal Champion
Rage spell (x 2)
Freeze spell (x 2)
Clone spell (x 1)
Invisibility spell (x 4)
Poison spell (x 1)
Haste spell (x 1)
Here are the rewards you can get if you complete this challenge:
400 XP
14 Gems
2 Training potions
The Last Town Hall 14 Challenge?! will be available in Clash of Clans between October 3 and October 10.
Town Hall 15 Seems Closer Than Ever...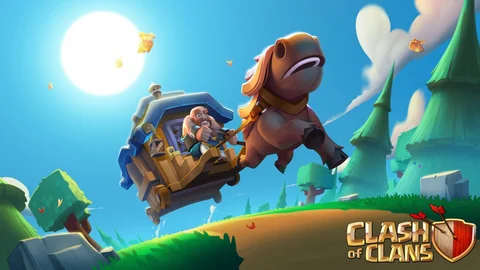 With this challenge signaling the end of Town Hall 14 in Clash of Clans, the highly-anticipated Town Hall 15 update is almost assured to come in October. As the challenge will be ending on October 10, we'll most likely see an announcement in the following week.
We saw the first signs of its arrival when Supercell announced the return of the Hammer Jam event as they always do before a major Town Hall update. We had already had our eyes on October as Supercell has long established that they keep a soft schedule of eighteen months between Town Hall updates.

Stay up to date with the latest Clash of Clans news and guides: