Have you ever wanted to know what Clash of Clans would look like in 3D? Well, this is the answer you've been looking for...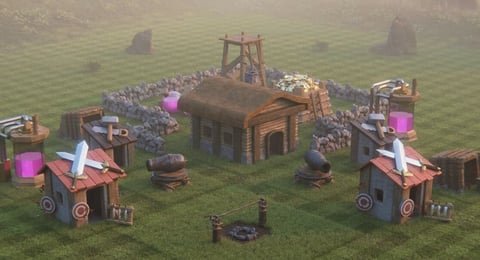 Clash of Clans was released a decade, and only one thing has remained the same throughout the years - its graphics. The game is known for its 2D design, vibrant colors, and unforgettable comical animations. With most mobile games nowadays employing state-of-the-art software to deliver jaw-dropping graphics, Clash of Clans is 'the little engine that could,' chugging along successfully with its ten-year-old animations.
But what if Supercell decided to update Clash of Clans' graphics into something more modern - better yet, realistic? What would that look like? In comes 3D artist Lenz Graphics, who decided to make all of our dreams come true by doing exactly that.
The graphics were so good that even Supercell noticed.
Clash of Clans, but realistic

Made by https://t.co/VV7V35bQfA pic.twitter.com/iOeNcOGK7O

— Clash of Clans (@ClashofClans) November 7, 2022
The project was an arduous process of turning the entire Clash of Clans background, buildings, and defenses into a realistic 3D RTX-like rendering - a task that, evidently, not even the Supercell team wanted to take on. It was worth it though, as many in the community loved it.
One player said, "We would rather have this than a new Town Hall update."
Another said, "Bring these realistic graphics in the mobile version of the game. Each and every veteran and new player of COC would surely love it. It will rejuvenate the game with a new angle."
This latter sentiment is shared by Lenz himself, who admitted that he designed all this in the hopes of convincing the Supercell team to implement these graphics into Clash of Clans. It may be a long shot considering that mobile is still far from able to support high-end 3D animations such as these. But seeing what's potentially in store for us in the future is enough, for now, to keep us patient until it comes around.

You can check out Lenz's whole processes in designing Clash of Clans in 3D in the video below:


While you're here, stay up to date with the latest Clash of Clans news and guides: