The Doggfather could be set to return to Call of Duty: Mobile Season 11.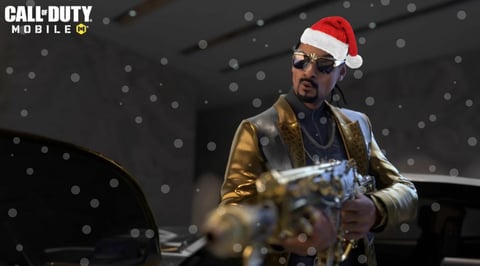 Father Christmas may be the father figure most associated with the holiday season, but in 2022, Snoop Dogg is seemingly making a late play for that honor.
That is because it looks like Snoop Dogg, aka the Doggfather, aka Snoop Lion, aka many other things, is set to return to Call of Duty: Mobile with a special Xmas-themed operator skin.
That is what we are hearing from COD: Mobile's army of leakers, with this Xmas Doggfather likely to be included as part of Season 11, which is due to launch next week.
The rumors began swirling after the release of the first official teaser for Season 11, which featured a COD: Mobile snow globe with a spaceman in it. In the reflection of the glass, an image of what appears to be Snoop Dogg can be seen.
A first look at Season 11

The new season goes live next week on 12/14 at 4 PM PT, but stay tuned for the official trailer premiere tomorrow at 4 PM PT. Comment below what you expect to see next season pic.twitter.com/OWrYgGNLLI

— Call of Duty: Mobile (@PlayCODMobile) December 7, 2022
If the rumors prove true, it would make for Snoop Dogg's second appearance in COD: Mobile. In April, the game got a 'Doggfather' operator skin, made available through a lucky draw alongside a legendary RUS-79U weapon blueprint.
If Snoop Dogg is set to come down our chimneys, we will likely hear all about it next week, when Season 11 is officially unveiled before its release on Thursday, December 15.
Snoop Dogg's return would be hot on the heels of three other superstars joining the game, with Lionel Messi, Paul Pogba, and Neymar Jr. turning up in Season 10: World Class.
For more COD: Mobile news and guides, check out: