Brazil, Japan, and LATAM? Warzone Mobile's soft launch could be expanding.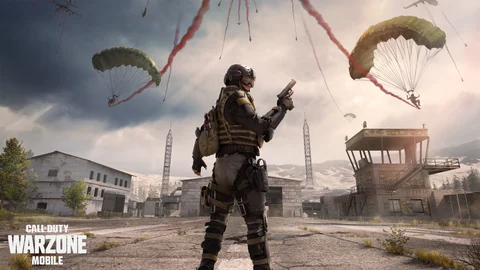 It feels like the entire mobile gaming community is waiting for Call of Duty: Warzone Mobile to expand its soft launch - or limited release as the developers are calling it - from Australia, where it is currently available, to the wider world.
But that has yet to happen, and in recent weeks we've had the bad news that the soft launch likely won't be expanded to high-population regions because it would "ruin the point," meaning the majority of us could be waiting until the game's eventual global release.
But that doesn't mean the soft launch won't come to new countries - we know for a fact it will - and now it looks like we have a heads up on what countries those might be, thanks to the creation of several localized social media accounts.
In recent days, official Warzone Mobile Instagram accounts have surfaced for Brazil, Japan, and Latin America (thanks DannyIntel...), possibly pointing to the need to be soon communicating with players in these regions.
New regional WZM accounts have popped up.

Possibly hinting that these regions are next in line to be added in limited release. #warzonemobile #warzone #callofduty pic.twitter.com/B3nUZGEvqB

— WZM Leakers On Duty (@LeakersOnWZM) March 14, 2023
Unconfirmed reports also state those residing in Brazil can download the client - but not play the game.
Warzone Mobile available to download in Brazil! (Sorry for late post, I just woke up) pic.twitter.com/86NdcdWuUU

— DannyTheLeaker (@DannyINTEL) March 15, 2023
Of course, Brazil, Japan, and Latin America are hardly places you'd consider low in population. Still, they're all regularly utilized in the early stages of mobile soft launches, with smartphone uptake near-universal and a ready supply of eager gamers.
There have been suggestions that the release of Season 2 Reloaded will be the point when new regions are added to the soft launch. That update is due out later today (March 15)... but don't hold your breath, similar suggestions were made before the release of Season 2, and still, only those in Australia can jump into Verdansk.
Ultimately, it may be that these accounts going public now is just to build up their audiences and promote the game ahead of its global release, which is rumored to fall sometime in May.
When the developers stated they would not bring the game to countries with "massive numbers of players," they said it would "ruin the point," suggesting that the game is still very much a beta product and not something they want to be in as many gamers' hands as possible.
However, each new update has improved the game's offering, with the most recent - Season 2 - introducing the complete Gunsmith mechanic and new multiplayer maps and game modes. There are still confirmed problems with the game's Android performance, but if those are resolved maybe the confidence is there to finally expand the soft launch.
We can only hope.
For more Warzone Mobile news and guides, check out: