A new update has hit Arena of Valor! TiMi Studio added a list of adjustments and improvements which will drastically improve the game. Let's go!
Arena of Valor received its latest update on July 21, 2022. In it, we're seeing the devs, TiMi Studio, introduce several calculated changes that will shake up the game dynamic but also seek to improve on some of the negative feedback that players have for the game in general.
Hey Challengers!

Here are the patch notes for the 7.21 hotfix

Read all about it here :
https://t.co/vsKAZYLRsU#arenaofvalor #AoV #hotfix pic.twitter.com/rmxgPfv9sV

— Arena of Valor (@ArenaofValor) July 21, 2022
Here are all the details you need to know including the hero balances, slayer updates, and more!
Hero Balance Adjustments
Only two heroes were adjusted in the July 2022 update of Arena of Valor: Nakroth and Maloch. Nakroth received a nerf while Maloch received a buff. Let's take a look at these changes!
Nakroth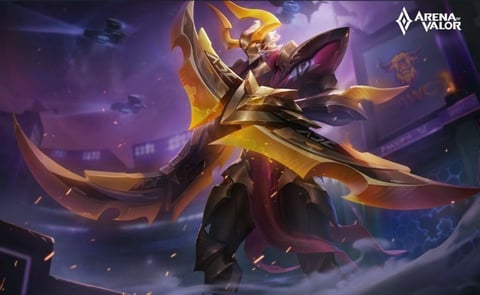 Nakroth received a nerf in the July 2022 update in Arena of Valor. The devs believe he is performing too well in the jungle and this has resulted in fewer opportunities for other junglers to make an appearance in the game.
They wanted to retain Nakroth's nimbleness but didn't want players to always choose him as an initiator because of the stable control effect of his first skill. To counter that, they have reduced the duration of his control effect.
The devs have also tweaked Nakroth's damage structure to make his damage more affected by attacking equipment because as an Assassin, he has excellent survivability and incredible damage even when he is equipped with half-tank equipment.
These are the nerf details:

Skill 1 knock-up time reduced from 0.8s -> 0.5s.
Skill 1 damage increased from 150 +20/Lv. +0.70 AD → 250 +20/Lv. +0.85 Bonus AD.
Ultimate 1 damage increased from 130 +50/Lv. +0.625 AD → 220 +50/Lv. +1.0 Bonus AD.
Maloch
Maloch is currently quite weak in Arena of Valor and so has received a buff in the new update. His skill 1 can be interrupted and that means he often dies suddenly in the late game. Also, the stability of Maloch's ultimate is far worse than that of other tanks and tank supports. The devs have decided to rectify this in the July 2022 update.

Besides this, Maloch has decent damage when wearing full defense equipment so the devs have adjusted his damage structure to make his damage more affected by attacking equipment.
These are Maloch's buff details:
Skill 1 is changed so that it is now protected from being interrupted instead of returning the cooldown when it is interrupted.
Skill 1 increased from 375 +125/Lv. +215% AD → 650 +200/Lv. +290% Bonus AD.
Skill 2 damage increased from 45 +5/Lv. +20% AD → 45 +5/Lv. +30% Bonus AD.
Skill 2 shield increased from 200 +70/Lv. +90% AD → 250 +75/Lv. +180% Bonus AD.
Ultimate range increased by 50.
Ultimate increased from 450 +225/Lv. +130% AD → 600 +250/Lv. +280% Bonus AD.
Slayer Gameplay Update
Slayers received some gameplay updates after the improvements which were just introduced in the last update. Slayer Vanguards aren't able to help players advance very well because they have weak damage absorption. The summoned Dark Slayer dealt too little damage to the tower, so the devs have increased its damage output.
Overall, the devs hope that players will be able to create new opportunities by summoning the Infinite Slayer. However, they still don't want the battlefield to be dominated by these summoned creatures so they have made them weaker.
These are the full gameplay update details:
Slayer Vanguard base HP increased from 4,500 -> 5,500.
Summoned Dark Slayer damage output to towers increased from 0.25 AD true damage → 1.0 AD physical damage.
Summoned Infinite Slayer base HP decreased 25,000 -> 20,000 and base armor decreased from 600 → 400.
Reduced the correction ratio of Slayer Minions and the summoned Slayer's damage dealt to 125%.
Bug Fixes And Improvements
Fixed a bug that caused the special effects of Yena's skill 2 to occasionally appear when Rourke uses normal attacks and Yena is on the battlefield.
Fixed a bug that caused the character model to not move when making normal attacks if Bright starts the match wearing the Toshiro Hitsugaya skin and battlefield resources have not been fully downloaded.
Fixed a bug that caused mini-map pings to not have a cooldown.
Fixed a bug that caused the pop-up frequency of some highlight signals to become abnormal.
Fixed a bug that prevented players from using Cleansing to dispel control effects when knocked up by Baldum's ultimate.
Fixed a bug that caused the passive signal and highlights switch in games to not be enabled.
Fixed a bug where players were abnormally judged to be AFK.
Fixed a bug that caused the selected hero skill and Rewind to both disappear in Double Ultimate Mode after the player uses Rewind twice.
Fixed a bug that caused the check-in button of the music festival check-in event, the position of the check-in word, and the chest position to be invalid when tapped.
Fixed a bug that caused the feature that automatically sends unclaimed items to the temporary Backpack to not work when the codex is transitioning to the new one.
Fixed a bug that caused the ultimate of Butterfly–Sunken Fable to use the wrong audio.
Stay up to date with Arena of Valor with the latest news and guides: